Why Did Jesus Have To Die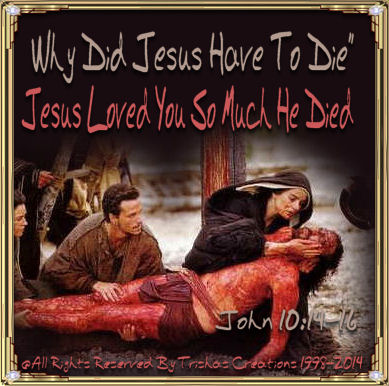 "Jesus Freely Offered His Life for Us"
 Jesus Loved You So Much He Died
You know there are again millions around this world, who do not believe in "Jesus Christ" who do not believe He rose again, those who do not believe He shed His Blood for you and me?
The Proof is in the "WORD OF GOD" Jesus sacrificed so very much when He was in this world as we know it. He has went through hell, He even was tempted by the devil as we are today, He did everything that we cannot even imagine, how He felt that day that He died and shed so much blood, He was scourged so bad that He couldn't even hardly walk, and by the time He had to carry His cross, He just couldn't do it, a soldier made a man carry it the rest of the way for Him.
One day, and one day so very soon, people will see Him, come through the Clouds and they will soon see, that He did come to earth, He did die on that cross, and He did rise again!
"Why Did Jesus Have To Die"
The Problem
We have all done things that are wrong, and we have failed to obey God's laws. Because of this, we have been separated from God our Creator. Separation from God is death; but, by ourselves, we can do nothing to become united with God.
Why Jesus Could Help
Jesus was not only a man; he was God's unique Son. Because Jesus never disobeyed God and never sinned, only He can bridge the gap between the sinless God and sinful mankind.
The Solution
Jesus freely offered his life for us, dying on the cross in our place, taking all our wrongdoing upon himself, and saving us from the consequences of sin—including God's judgment and death.
The Results
Jesus took our past, present, and future sins upon himself so that we could have new life.
Because all our wrongdoing is forgiven, we are reconciled to God. Furthermore, Jesus' resurrection from the dead is the proof that his substitutionary sacrifice on the cross was acceptable to God, and his resurrection has become the source of new life for whoever believes that Jesus is the Son of God. All who believe in him may have this new life and live it in union with him.
Living To Die / John 10:14-16
Everything about Jesus' life pointed toward a purpose. His passing through the world illustrated many spiritual truths about God and his plan, but Jesus' main reason for coming was half. Without Christ's death for us there would be no hope for us!
Reference Passage
Romans 5:8 But God showed his great love for us by sending Christ to die for us while we were still sinners.
Ephesians 5:2 Live a life filled with love for others, following the example of Christ, who loved you and gave himself as a sacrifice to take away your sins. And God was pleased, because that sacrifice was like sweet perfume to him.
Hebrews 9:14 Just think how much more the blood of Christ will purify our hearts from deeds that lead to death so that we can worship the living God. For by the power of the eternal Spirit, Christ offered himself to God as a perfect sacrifice for our sins.
1 Peter 2:24 He personally carried away our sins in his own body on the cross so we can be dead to sin and live for what is right. You have been healed by his wounds!
1 Peter 3:18 Christ also suffered when he died for our sins once for all time. He never sinned, but he died for sinners that he might bring us safely home to God. He suffered physical death, but he was raised to life in the Spirit.
 
Jesus 1  Jesus 2  Jesus 3  Jesus 4  Jesus 5  Jesus 6  Jesus 7  Jesus 8  Jesus 9  Jesus 10  Jesus 11
Jesus 12  Jesus 13  Jesus 14  Jesus 15  Jesus 16  Jesus 17  Jesus 18  Jesus 19  Jesus 20  Jesus 21  Jesus 22  Jesus 23