Rebuking the Devil and His Evilness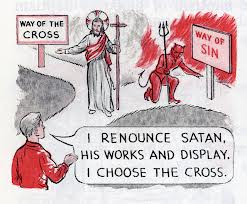 Rebuking the Devil and His Evilness
If, you have read the other pages on "Rebuking & Renouncing Satan", then you have already found out what we should "rebuke and not rebuke" it's that time in our world where we all NEED TO STAND UP and FIRM, against all evilness. Really, it's past time and with everyone saying the same prayers and the same agreement's to rebuke the devil and his evilness around the world we ALL CAN MAKE A HUGE DIFFERENCE!
We all NEED to stand up and take our families, our children, our friends and our leaders back to the family of God! There are 4 questions I want to ask you they are right below:
Can you help do this?

Are you determined to outshine the devil and give him a big black eye and have him cower at the Name of Jesus Our Lord and Savior?

Are you ready?

Are You ABLE?
Below I am going to pray and prayer to "REBUKE. RENOUNCE SATAN" I will leave blanks in the prayer… this is where you can say out loud your name, or family name or a friends name a leaders name… the more rebuking of the devil we do that will be a difference in this world where the devil has to cower down and leave God's people alone!
SAY OUT LOUD: Determination, Strength, Firmness
Heavenly Father, we come together in agreement in your word Matthew 18:19-20, 19 Again I say unto you, That if two of you shall agree on earth as touching any thing that they shall ask, it shall be done for them of my Father which is in heaven. 20 For where two or three are gathered together in my name, there am I in the midst of them.
We are praying and asking you to give us the strength, the power, determination and firmness to "rebuke & renounce the devil" in this world and our lives. I ask you to build me up and give me the power In Jesus Name to rebuke the evil that is around us and near us In Jesus Name! I believe you are with me and I trust in your strength In Jesus Name!
Satan it's time for you to leave, it's time for you to go back to the gates of hell from where you came. In Jesus Name satan I command you to leave _____ alone, I command you to take your hands, your evil thoughts, your evil sickness and lies off of ____, I command you right now In Jesus Name you take your hands off ____ health, they are not your's, you lost them years ago, when the power of the Lord Jesus Came and delivered them from your evil grips.
In Jesus Name satan, I command you to take yourself, off _____ their finances, their friendships, their marriages, their jobs, you have to flee Satan by the Power and The Blood of Our Lord Jesus Christ, In Jesus Name flee get out of here get off my family _______,______,_____,_____,_____,______ you have robbed them (or me) of the goodness of the Lord God almighty and I command you right now to leave ________ alone in Jesus Name. You are a liar, a thief, conniver, deceitful, murderer, should I go on satan, get away get off and leave my body, my family, my friends in Jesus Mighty and Power Name Jesus, we are covered by His Grace and His Love and and Mercy we are covered by Jesus' Blood and you cannot have anyone, In Jesus Mighty Name Thank You Jesus for all you have done and all you going to do and I Thank you for giving me the strength and POWER over THE DEVIL IN JESUS NAME Amen Amen
 Page 1  Page 2  Page 3  Page 4  Page 5  Page 6  Page 7  Page 8  Page 9  Page 10  Page 11