Scripture Verses On Trust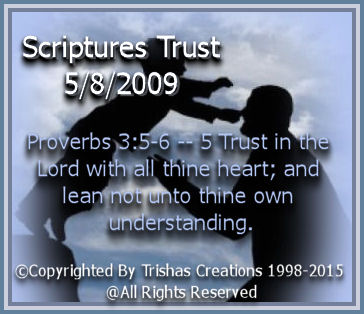 Scriptures Trust
5/8/2009
Sometimes, people have trust issues and it's hard for us to trust those whom we thought we could. Some even are afraid to trust God in their lives, one it could be because they have a hard time trusting someone they cannot see, that is invisible. Some, probably has been hurt so much in their lives, that they refuse to break down their wall of trust in their hearts. I know I have had this problem years ago, and always ended up making the wrong decisions in my life, because I was always scared to trust someone. But, I know I can trust God in my life and I know for a fact He's covering me each and everyday with His love and protection.
Psalms 5:11—11 But let all those that put their trust in thee rejoice: let them ever shout for joy, because thou defendest them: let them also that love thy name be joyful in thee.
Psalm 7:1 O Lord my God, in thee do I put my trust: save me from all them that persecute me, and deliver me:
Psalm 9:10 And they that know thy name will put their trust in thee: for thou, Lord, hast not forsaken them that seek thee.
Psalms 22:2-5 — 2 O my God, I cry in the day time, but thou hearest not; and in the night season, and am not silent.
3 But thou art holy, O thou that inhabitest the praises of Israel.
4 Our fathers trusted in thee: they trusted, and thou didst deliver them.
5 They cried unto thee, and were delivered: they trusted in thee, and were not confounded.
Psalms 31:19 — 19 Oh how great is thy goodness, which thou hast laid up for them that fear thee; which thou hast wrought for them that trust in thee before the sons of men!
Psalms 32:10 —10 Many sorrows shall be to the wicked: but he that trusteth in the Lord, mercy shall compass him about.
Psalms 33:21 — 21 For our heart shall rejoice in him, because we have trusted in his holy name.
Psalms 37:3-5 — 3 Trust in the Lord, and do good; so shalt thou dwell in the land, and verily thou shalt be fed.
4 Delight thyself also in the Lord: and he shall give thee the desires of thine heart.
5 Commit thy way unto the Lord; trust also in him; and he shall bring it to pass.
Psalms 40:4 — 4 Blessed is that man that maketh the Lord his trust, and respecteth not the proud, nor such as turn aside to lies.
Psalms 44:6 — 6 For I will not trust in my bow, neither shall my sword save me
Psalms 49:6-7— 6 They that trust in their wealth, and boast themselves in the multitude of their riches;
7 None of them can by any means redeem his brother, nor give to God a ransom for him:
Psalms 52:8 — 8 But I am like a green olive tree in the house of God: I trust in the mercy of God for ever and ever.
Psalms 56:4 — 4 In God I will praise his word, in God I have put my trust; I will not fear what flesh can do unto me.
11 In God have I put my trust: I will not be afraid what man can do unto me.
Psalms 73:28 — 28 But it is good for me to draw near to God: I have put my trust in the Lord God, that I may declare all thy works.
Psalms 146:3 — 3 Put not your trust in princes, nor in the son of man, in whom there is no help.
Matthew 5:5 — 5 Blessed are the meek: for they shall inherit the earth.
Matthew 12:17-21 — 17 That it might be fulfilled which was spoken by Esaias the prophet, saying,
18 Behold my servant, whom I have chosen; my beloved, in whom my soul is well pleased: I will put my spirit upon him, and he shall shew judgment to the Gentiles.
19 He shall not strive, nor cry; neither shall any man hear his voice in the streets.
20 A bruised reed shall he not break, and smoking flax shall he not quench, till he send forth judgment unto victory.
21 And in his name shall the Gentiles trust.
Proverbs 3:5-6 — 5 Trust in the Lord with all thine heart; and lean not unto thine own understanding.
6 In all thy ways acknowledge him, and he shall direct thy paths.
Proverbs 11:28  — 28 He that trusteth in his riches shall fall; but the righteous shall flourish as a branch.
Proverbs 16:20  — 20 He that handleth a matter wisely shall find good: and whoso trusteth in the Lord, happy is he.
Proverbs 22:19  — 19 That thy trust may be in the Lord, I have made known to thee this day, even to thee.
Proverbs 28:25  — 25 He that is of a proud heart stirreth up strife: but he that putteth his trust in the Lord shall be made fat.
Proverbs 28:26  — 26 He that trusteth in his own heart is a fool: but whoso walketh wisely, he shall be delivered.
Proverbs 29:25  — 25 The fear of man bringeth a snare: but whoso putteth his trust in the Lord shall be safe.
Proverbs 30:5  — 5 Every word of God is pure: he is a shield unto them that put their trust in him.
Proverbs 31:11  — 11 The heart of her husband doth safely trust in her, so that he shall have no need of spoil.
Isaiah 49:8 — 8 Thus saith the Lord, In an acceptable time have I heard thee, and in a day of salvation have I helped thee: and I will preserve thee, and give thee for a covenant of the people, to establish the earth, to cause to inherit the desolate heritages;
Isaiah  57:13 — 13 When thou criest, let thy companies deliver thee; but the wind shall carry them all away; vanity shall take them: but he that putteth his trust in me shall possess the land, and shall inherit my holy mountain;
Jeremiah 17:5 — 5 Thus saith the Lord; Cursed be the man that trusteth in man, and maketh flesh his arm, and whose heart departeth from the Lord.
Jeremiah 48:7 — 7 For because thou hast trusted in thy works and in thy treasures, thou shalt also be taken: and Chemosh shall go forth into captivity with his priests and his princes together.
Ezekiel 33:13 — 13 When I shall say to the righteous, that he shall surely live; if he trust to his own righteousness, and commit iniquity, all his righteousnesses shall not be remembered; but for his iniquity that he hath committed, he shall die for it.
Hebrews 12:22 — 22 But ye are come unto mount Zion, and unto the city of the living God, the heavenly Jerusalem, and to an innumerable company of angels,