REAL TESTIMONIES -4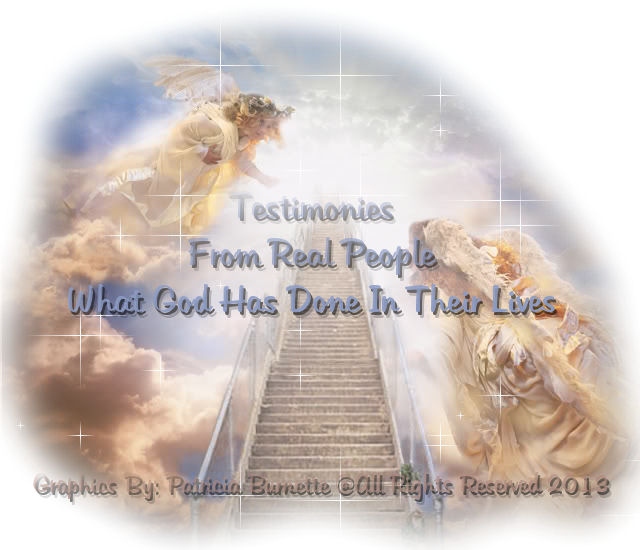 These are real "Testimonies" from Real People who have experienced "God's Mercy and Grace" in their lives. These here are from my life in the 1990's and in 1984.
I have asked their permission to post their "real life testimonies" in hopes that they may help other's who may be going through the same things in their lives.
If, you have a Testimony which you would like to share please let me know. You can connect with me on FB/ Heavens-Beauty & Wisdom of Jesus! Thank You and May God Richly Bless You!  (PS I am still re-editing code ( I am now learning Word Press so some may look distorted a little but they are getting fixed 🙂 )
Stressed Out and Tired Of All the Struggling
Patricia From: Montgomery Al
We moved back down from Mississippi, in March of 2000, whether I wanted to or not, I bucked and bucked for 1 1/2 years….due to a personal matter in which I didn't want to come back to.
Money, was getting slow in Mendenhall, Ms for my husband Joe, and he went on the road to drive an 18 – wheeler, hoping to make it. I kept praying and asking the Lord if, this is what he wants OK, but I don't want to go back to Montgomery, Al.
But if, he wanted me to, Ok, but I cried and I cried and pleaded, with my husband, and the Lord and I was just bit and determined I wasn't going back, and I refused, and refused a long time.
But, while in Mississippi, I learnt some lessons there…..that I will say!
When, money got low and tough to come by , we were about to loose my Car, in which God provided, even with my husband's credit and I kept praying to the Lord, not to let the Devourer Satan, take his gift to us away.
We kept getting threatening letters and we just didn't know if, we'd wake up and the car would be gone, or not. But, everything was tearing up and wearing out and we were eating very little and we didn't know where the next dollar was to come from.
I got tired of it, one day……and I Just fell to the floor and I screamed and hollered and asked the Lord "Why, are you allowing this to happen, why?" My stereo CD tore up and that was my only way to be able to listen to my "GOSPEL MUSIC" and when that happened to me that was the last draw.
The trailer, wasn't getting fixed, by my husband's Boss, and I was praying and believing for my OWN House again, that we can Call Our's, and I was unhappy in the roof over our head, but I was so happy there……nice quite, relaxing, no phones ringing off the hooks, and I had my Time with the LORD anytime I wanted or felt I needed, etc.
That was my only way to be able to Listen to gospel music and to feel God's Presence and I was so angry……that day; I gave everything I had and owned to The Father Jesus……. I asked him to help me understand , why?
But, after awhile I was learning Patience and Control, and NOT TO GIVE UP!
Well, my answer came about Alabama, I told my husband that if the LORD wants us there then your Boss at Boyett's will hire you back, and if, it's what the Lord wants then Ok, I will go, but I was still bucking and refusing and crying all the time.
But, to make a long story short, we're back here and we had to stay with my Big Sister, Debbie and then we found a house, to Rent, for awhile, and then MY FATHER came through……………
We was in Bankruptcy, Chapter 13, and we were Dismissed, and we were still unable to Obtain Credit and Buy anything.but, like I said, MY JESUS came through and He has never failed me yet…………
My husband Joe found a place "COUNTRY WIDE Home Loans" and they were willing to pass us for a NEW HOME LOAN, to buy us a House, and the Lord also; came through for the money…..to.
In just a few weeks were having to get up $6,343.38 for down payment and we did it !!
God put ways in front of Us that Only he could've done, and we now "OWN OUR OWN HOME" which is actually, my DREAM Home. My colors, just the way I have always wanted and the setting is just perfect and we are now paying allot less than we were paying RENT, we now are able to obtain all kinds of CREDIT, in which we use "Wisely."
He has also; made a way for my Business to get all I needed to keep it up and have all the machines I needed to do this.
Our Car is just about paid for and we "OWE EVERYTHING TO MY LORD & SAVIOR!" Thank You Father Jesus……..
There, are so many things; that "JESUS" has done in "MY LIFE" and if, it was not for him…..I would be dead, and very, very "LOST!"
I want to "THANK THE LORD JESUS" right now; for my "WONDERFUL PARENTS" and if; it was not for them; "teaching us" about "JESUS" we wouldn't have known "SUCH A WONDERFUL PERSON" I also; want to; "THANK HIM" for each and everything; he has done, and all he's "GOING" to do…in my "LIFE" and yours!"
"DO YOU WANT TO KNOW….JESUS?"
IF, YOU DO….YOU CAN KNOW HIM; RIGHT NOW…BY, REPEATING THE PRAYER BELOW; PLEASE, DON'T WAIT FOR SOMETHING "TERRIBLE OR BAD" HAPPENS…BEFORE YOU WANT TO GET TO KNOW HIM!"
Dear Heavenly Father, I come with a heavy heart to you, I know I haven't lived the way I should've been, I know you came to this earth for me and to die for me shed your precious blood for me. I admit I am a sinner, I am very sorry for all my sins, Jesus please come into my heart and remove the sins of my being. Father Jesus, I ask that you cover me with your precious blood and cleanse me from head to toe, and come into my heart and dine with me, sit with me, talk to me, I know that you are the only begotten son for God and I admit to you and others that You Are my Lord and Savior and Thank You for coming in to my heart and releasing me from all my sins. In Jesus Name Amen Amen!
If, you prayed that prayer or even said one of your own, will you let us know that you accepted Jesus as your Personal Savior so we can rejoice with you and pray for you!
May God Bless You and Keep You, and send us your testimony so we can add it here!
Page 1 Page 2 Page 3 Page 4  Page 5 Page 6 Page 7 Page 8 Page 9