Prayers for Health, Healing and Change NEW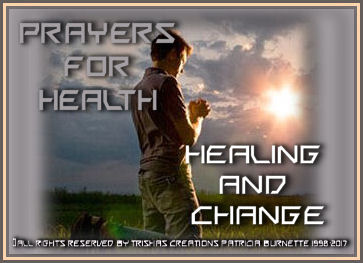 Prayers for Health, Healing and Change
Life isn't always happiness and joy – there are times when you need powerful prayers for health, healing and for change.
Pray for Self Care
Dear God,
Lift me up for Your blessings today. I pray that you will anoint me with strength and self care. I pray that you will grace me with patience and wisdom. I pray that You will encourage me throughout the day to take the correct steps to walk proudly, and behave well. Jesus Name Amen
Serenity Prayer
Lord,
I thank You for being with me through thick and thin, in the best of times and in the most challenging times. You are my rock, my fortress, my everything. With You, I discover complete serenity. You never forsake me. You were with me at the start, and You will be with me at the end. Until then, we carry on knowing the difference between achievable goals and futile efforts.
Jesus Name Amen
Mighty Prayers
Dear God,
I'm quirky I know. I don't always do things in a traditional way. But I know what's right. I know how to stand my ground for what I believe to be true. Still, I need Your help dear God. You planted the seed. You nourish me. Shelter me now from the elements that stand in my way. Help me grow. Jesus Name Amen

Hurts So Bad
Dear God,
It hurts so bad. Dull the pain with Your love. Blur the sharp edges by reminding me that from bad comes good. Help me appreciate that after the sorrow, joy is sweeter. I look forward to better times. I can endure anything with You by my side.
Jesus Name Amen

Respecting Me
Dear Lord,
Thank You for giving me the richest gift of all: You taught me to respect myself. I have the ability to say "no" to the toxic people in my life. I am able to surround myself with only those who share authentic love through word and deed. I can grow to my full potential. Jesus Name Amen

Powerful Prayers for Others
Merciful God,
I offer prayers for those who are wanting. Those with broken hearts and broken lives. Bless them with healing. Change their circumstances. Cause peace and prosperity to come to them in abundance. I, who have plenty, pray that I may share the richness of my soul, even as I share my resources. Jesus Name Amen

Prayer for Healing
Lord,
Please walk beside me through this day. Clear the heavy air with the lightness of Your Presence. Guide my hands and steady my heart that I may give comfort when I cannot give hope, that I may give relief when I do not have a cure, and that I may radiate Your healing peace when the limits of science, time, and the human body overwhelm us all. Jesus Name Amen

Prayer of Gratitude for Life-Changing Friendship
Lord,
I am loved by my friends, and I thank You for their devotion that flows through You. Having friendships is a blessing. Being appreciated is a wonder. Being liked for who I am is a joy. Jesus Name Amen

Grace Prayer
Dear God,
My life is a mess and I don't want to live this way anymore. Give me the grace to overcome my sloppy habits. Help me by showing me the strength I already have is all I need to change. Jesus Name Amen
Prayer of Help and Healing
Dear God,
Still my tongue. Replace useless words with silent understanding. Let compassion be my guide as I offer help and healing with only my presence and my prayers. I pray that I will know when to speak and when not to. May my support be felt without uttering a single syllable. Jesus Name Amen

Renew My Mind, Body and Soul
Lord, I come before you today in need of your healing hand. In you all things are possible. Hold my heart within yours, and renew my mind, body, and soul.
I am lost, but I am singing. You gave us life, and you also give us the gift of infinite joy. Give me the strength to move forward on the path you've laid out for me. Guide me towards better health, and give me the wisdom to identify those you've placed around me to help me get better. In your name I pray, Amen

A Prayer Against Disease
Lord, Your scripture says that you heal all diseases and whoever believes in You will not perish but have an everlasting life. Strengthen me, Lord, in this time of illness. Sustain him as he lays sick in his bed. When You were on Earth, you did all things good and healed all kinds of sickness.
You healed those who had diseases. You died and rose for our sins and that we may have eternal life, Lord. I believe in my heart that You are here with us today and that with Your most holy power will remove all sicknesses and evils that roam the earth. Let it be done in Your glory, Lord. We praise and glorify Your name, Amen

To Heal a Friend
Think, o God, of our friend who is ill, whom we now commend to Your compassionate regard.
Comfort him upon his sickbed, and ease his suffering. We beg for deliverance, and submit that no healing is too hard for the Lord, if it be His will.
We therefore pray that You bless our friend with Your loving care, renew his strength, and heal what ails him in Your loving name. Thank You, Lord. Jesus Name Amen

A Prayer for Healing a Loved One
All our times are in Thy hand. All diseases come at Thy call, and go at Thy bidding. Thou redeemer our life from destruction, and crown us with loving kindness and tender mercies. We bless Thee, that Thou hast heard prayer, and commanded deliverance's for our friend and Thy servant, who has been under Thine afflicting hand.
He (or she) was brought low, but Thou hast helped him (her). May he (she) not only live, but declare the works of the Lord!
As Thou hast delivered his eyes from tears, his feet from falling, and his soul from death, may he daily inquire: What shall I render unto the Lord for all his benefits towards me, and resolve to offer unto Thee the sacrifices of thanksgiving, and to call upon the name of the Lord.
May we ever remember that recovery is only a reprieve and that some day we will go to our rest in the Lord. May we therefore secure the righteous path and live with eternity ever in our view.

A Prayer to Ease Pain
Almighty Father, Thank you for your love, grace and mercy. I pray that my discomforts will turn to comforts, my pains to gains, my deprivation to more blessings, my losses to profits, my tear to smiles, my sorrows to pleasures, my illness to wellness, my debts to credits and my dreams to realities.
As the scripture said "The Lord is near to the brokenhearted and saves the crushed in spirit." And he "He heals the brokenhearted and binds up their wounds."
I trust in you Lord and in you alone to heal me with any form of skepticism towards blessing that you will be employed upon me. I trust, Lord, that this agony and suffering that is only in my head, will come to end and positivism will shine upon me as I read, hear, study and preach the truth in the Bible.

For Recovery from Sickness
O God, the strength of the weak and the comfort of sufferers: Mercifully accept our prayers, and grant to your servant the help of your power, that her/his sickness may be turned into health, and our sorrow into joy; through Jesus Christ our Lord. Amen.

For a Sick Child
Lord Jesus Christ, Good Shepherd of the sheep, you gather the lambs in your arms and carry them in your bosom: We commend to your loving care this child. Relieve his/her pain, guard him/her from all danger, restore to him/her your gifts of gladness and strength, and raise him/her up to a life of service to you. Hear us, we pray, for you dear Name's sake. Amen.