Real Testimonies -5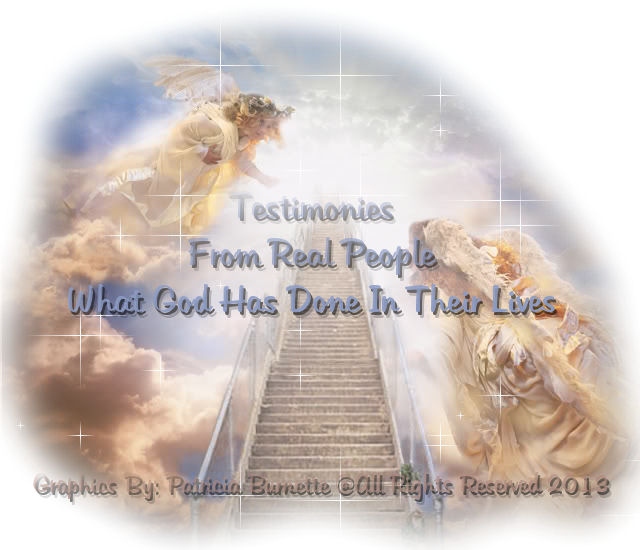 "More Testimonies From Real People"
These are real "Testimonies" from Real People who have experienced "God's Mercy and Grace" in their lives.
I have asked their permission to post their "real life testimonies" in hopes that they may help other's who may be going through the same things in their lives.
If, you have a Testimony which you would like to share please let me know. You can connect with me on FB/ Heavens-Beauty & Wisdom of Jesus! Thank You and May God Richly Bless You! (PS I am still re-editing code so some may look distorted a little but they are getting fixed 🙂 )
---
My name is Laura Hammett from Tampa, FL. My sister is Mandy Batton from Santa Fe, Texas
I have been searching for my half sister for over 20 yrs. I finally found her on FB of all places. God allowed and gave us a way to meet this past Tuesday. I have a sister with a face now instead of just a name. God is so AMAZING to allow us to find each other after all these yrs of searching. Mandy has been searching for me as well. Just want to scream it from EVERY roof top, THANK YOU, LORD…
---
Ellen, Montgomery, Al
God, has been there for me and has taken good care of me. I am 79 years old and if it wasn't for Him, I wouldn't be here and I wouldn't be able to still pay on my house. God has made sure I am taken care of, by the help from my good friends and my daughter, if it wasn't for Him I wouldn't have them in my life. He has been there for me in so many different ways, that He could be. He has provided ways for me to be able to do all I have to to do. I have been Blessed with so many things in my life.
---
Mike, Montgomery, Al
I have been blessed with good health, good friends wonderful place to stay for little rent, the great opportunity for a great job coming up. An Opportunity for an online business and an opportunity to speak out against the unjustness of some of the government handlings. In God there is no way there doesn't seem like there is way.
---
This tribute is from Juergen Kraft. Montgomery, Al (2019)
Juergen had stenosis surgery on his neck about three weeks ago. A stenosis, in case you don't know, is when a disk bulges out and presses on the spinal cord. It causes spinal cord injury with other ill effects, as well as it being life threatening. He was not able to walk properly and had tingling in both his hands.
The surgeon who did the operation is very skilled in his field. He was blessed by the Lord in having this surgeon perform this very delicate operation on him. It takes weeks to schedule a visit with this surgeon.
Now his walking is gradually improving. He is still having difficulty but is steadily overcoming them day by day. He is not well yet, but with the Lord he will be. God is Great. Make no mistake, He can change a life for the better, if only we believe in Him. This tribute was written for Juergen by his brother Michael, since he still cannot really type or write very well as yet. Praise to God, Juergen is out of the woods as far as his condition becoming worse and fatal.
---
This is a tribute to our Lord our God.
My name's Michael Kraft, and about three years ago I had hernia surgery. It was a big hernia, visible from the outside of my pants as a lrage lump in the groin area. I could do nothing to hide this, and it had the potential to become life-threatening. I also had this hernia for a long time.
I had no health insurance, but needed to have surgery to have this fixed. The Lord made it possible for me to have the surgery.
Not only did He make it possible for me to have the surgery, but I had a very skilled surgeon to do the surgery. He is the only trauma surgeon in this entire area and I was blessed to have him take care of me.
The surgery went well, with the usual painful recovery period. But the hernia is entirely gone with no ill effects. I am so greatful to the Lord for providing me this help that I needed. Also, I was blessed when the bills came; the amount I had to pay was but a tiny faction of the total that the surgery, the MRI with contrast, and medication would have cost me!
Bless the Lord!
Michael Kraft Montgomery, Al
---
"DO YOU WANT TO KNOW….JESUS?"
IF, YOU DO….YOU CAN KNOW HIM; RIGHT NOW…BY, REPEATING THE PRAYER BELOW; PLEASE, DON'T WAIT FOR SOMETHING "TERRIBLE OR BAD" HAPPENS…BEFORE YOU WANT TO GET TO KNOW HIM!"
Dear Heavenly Father, I come with a heavy heart to you, and I know I haven't lived the way I should've been, I know you came to this earth for me and to die for me and to shed your precious blood for me, I admit I am a sinner, and I am very sorry for all my sins, Jesus please come into my heart and remove the sins of my being. Father Jesus, I ask that you cover me with your precious blood and cleanse me from head to toe, and come into my heart and dine with me, sit with me, talk to me, I know that you are the only begotten son for God and I admit to you and others that You Are my Lord and Savior and Thank You for coming in to my heart and releasing me from all my sins. In Jesus Name Amen Amen!
If, you prayed that prayer or even said one of your own, will you let us know that you accepted Jesus as your Personal Savior so we can rejoice with you and pray for you!
May God Bless You and Keep You, and send us your testimony so we can add it here!
Page 1 Page 2 Page 3 Page 4  Page 5 Page 6 Page 7 Page 8 Page 9