Praying Without Ceasing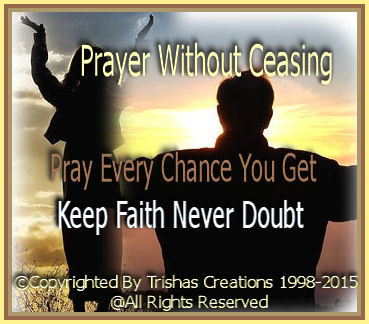 "Prayer is a Path to Heaven"
Some people don't pray because they think that there is a certain way of praying, but there really isn't! God knows our hearts even before we do. He knows our every longing, and He knows that when we hurt He hurts also.
But, Jesus did give us a certain prayer to pray. The disciples wanted to know the right way to pray, Teach Us to Pray (Luke 11:1-13) as Jesus went and prayed by himself and He was in secret prayer.
The Model Prayer (Luke 11:1-13)
11 Now it came to pass, as He was praying in a certain place, when He ceased, that one of His disciples said to Him, "Lord, teach us to pray, as John also taught his disciples."

2 So He said to them, "When you pray, say:
Our Father in heaven,
Hallowed be Your name.
Your kingdom come.
Your will be done
On earth as it is in heaven.
3 Give us day by day our daily bread.
4 And forgive us our sins,
For we also forgive everyone who is indebted to us.
And do not lead us into temptation,
But deliver us from the evil one."
Don't let God and Jesus get away from you because other's tell you that there is a certain way to pray.
I have heard many preachers, and minister's say you pray this way, you pray that way. But, you pray from YOUR HEART. Let God know that you are sorry for your sins, and then begin to thank Him for all He has given you!
If, anyone knows Our Heart, It's God the Father and Jesus Christ! Just because they do doesn't mean we do not pray. We Must Pray, one it keeps the devil back in his pit and it give us protection against anything that can come against Us. Jesus, tells us that noone can get to the Father but through Him. And that is so true!
1 Thessalonians 5:17 Pray without ceasing
1 Thessalonians 5:18 In every thing give thanks: for this is the will of God in Christ Jesus concerning you.
When it says Pray without ceasing, it means pray no matter where you are, many times a day. You can pray while carrying the children to school, or to their activates, pray while cooking meals, pray while washing dishes, or even mowing the lawn, there are many other ways you can take time to pray. When we pray we are to go into a room and close the door, so when we pray God can speak to us through our prayers, and our Bible reading.
Prayer, is something that needs to be brought back into this Country, all of us Christians needs to stand up and fight for Our rights as Christians. Prayer changes things in our lives, it changes our circumstances, our families get saved, our bodies are healed or our loved ones. there are so many things we could pray for. We are to even pray for Our Government and our Congress did you know that?
We should even pray for help in the areas we need help in. Seek Jesus' face, seek the kingdom of God the Father. We all need Jesus in our lives and without Him, we are nothing at all, what He wanted for us. Our life was planned for the get go, and it's the choices we make which makes our life miserable, and the devil comes in and he steals , kills, destroys our families.
Prayer is a path to heaven and to the Lord Jesus Christ, we must go through him first and then He goes to the Father. Prayer, should be an important thing before any other in our lives, without it we are lost as the hills, without it and Jesus we are nothing.