Jesus Christ is The Messiah Part 3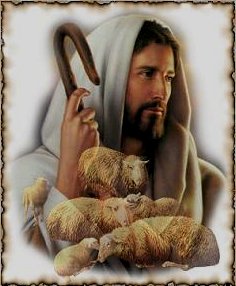 LIFE OF JESUS CHRIST, OVERVIEW
We will see Him!
They will see His face, and His name will be on their foreheads. And there will no longer be any night; and they will not have need of the light of a lamp nor the light of the sun, because the Lord God will illumine them; and they will reign forever and ever.
One day soon we will be able to look upon Jesus' face and He will be coming through the Clouds of Glory. The way this world is becoming , it will be very soon….are you ready for him, are you ready to see His face?
I have listed some verses below, about "Jesus Our Messiah" and I do pray they help you along your way to get to know Him. You will be glad you found Him! Some verses are in different interpretations of the Bible.
Revelation 22:4,5 NASB
For now we see in a mirror, dimly,
but then face to face.
Now I know in part, but then I shall
know just as I also am known.
And now abide faith, hope, love, these three;
but the greatest of these is love.
1 Corinthians 13:12,13 NKJV
But friends, that's exactly who we are: children of God.
And that's only the beginning. Who knows how we'll end up! What we know is that when Christ is openly revealed, we'll see him–and in seeing him, become like him.
All of us who look forward to his Coming stay ready, with the glistening purity of Jesus' life as a model for our own.
1 John 3:2,3 MSG
Glorious, eternal life belongs to those who belong to Him!
Are you washed in the blood of the Lamb?
Walk in Humility
1 Peter 5:4-7 NIV And when the Chief Shepherd appears, you will receive the crown of glory that will never fade away.
5 Young men, in the same way be submissive to those who are older. All of you, clothe yourselves with humility toward one another, because,
6 "God opposes the proud but gives grace to the humble."
7 Humble yourselves, therefore, under God's mighty hand, that he may lift you up in due time. Cast all your anxiety on him because he cares for you.
James 4:10 KJV
Humble yourselves in the sight of the Lord, and he shall lift you up.
1 Corinthians 4:5-7 NASB
5 Therefore do not go on passing judgment before the time, but wait until the Lord comes who will both bring to light the things hidden in the darkness and disclose the motives of men's hearts; and then each man's praise will come to him from God.
6 Now these things, brethren, I have figuratively applied to myself and Apollos for your sakes, so that in us you may learn not to exceed what is written, so that no one of you will become arrogant in behalf of one against the other.
7 For who regards you as superior? What do you have that you did not receive? And if you did receive it, why do you boast as if you had not received it?
Live in Him! Look for Him!
Galatians 2:19-20
19 For I through the law died to the law that I might live to God.
20 I have been crucified with Christ; it is no longer I who live, but Christ lives in me; And the life which I now live in the flesh I live by faith in the Son of God, who loved me and gave Himself for me.
Hebrews 9:26b-28 ESV
But as it is, he has appeared once for all at the end of the ages to put away sin by the sacrifice of himself. And just as it is appointed for man to die once, and after that comes judgment, so Christ, having been offered once to bear the sins of many, will appear a second time, not to deal with sin but to save those who are eagerly waiting for him.
Colossians 3:1-4 KJV
1 If ye then be risen with Christ, seek those things which are above, where Christ sitteth on the right hand of God.
2 Set your affection on things above, not on things on the earth.
3 For ye are dead, and your life is hid with Christ in God.
4  When Christ, who is our life, shall appear, then shall ye also appear with him in glory.
2 Corinthians 6:1,2 NKJV
1 We then, as workers together with Him also plead with you not to receive the grace of God in vain.
2 For He says: "In an acceptable time I have heard you, And in the day of salvation I have helped you." Behold, NOW is the accepted time; Behold, NOW is the day of salvation.
Romans 5:9-11 NIV
9 Since we have NOW been justified by his blood, how much more shall we be saved from God's wrath through him!
10 For if, when we were God's enemies, we were reconciled to him through the death of his Son, how much more, having been reconciled, shall we be saved through his life!
11 Not only is this so, but we also rejoice in God through our Lord Jesus Christ, through whom we have now received reconciliation.
Romans 8:1,2 NKJV
1 There is therefore NOW no condemnation to those who are in Christ Jesus, who do not walk according to the flesh, but according to the Spirit.
2 For the law of the Spirit of life in Christ Jesus has made me free from the law of sin and death.
1 Corinthians 2:9 NIV
9 However, as it is written: "No eye has seen, no ear has heard, no mind has conceived
what God has prepared for those who love him"
Isaiah 65:17 NASB
17 "For behold, I create new heavens and a new earth; And the former things will not be remembered or come to mind."
Romans 8:1,2 NKJV
1 There is therefore now no condemnation to those who are in Christ Jesus, who do not walk according to the flesh, but according to the Spirit.
2 For the law of the Spirit of life in Christ Jesus has made me free from the law of sin and death.
Revelation 1:18 NASB
"Do not be afraid; I am the first and the last, and the living One; and I was dead, and behold, I am alive forevermore, and I have the keys of death and of Hades."

Psalm 9:7-10 NIV
7 The LORD reigns forever; he has established his throne for judgment.
8 He will judge the world in righteousness; he will govern the peoples with justice.
9 The LORD is a refuge for the oppressed, a stronghold in times of trouble.
10 Those who know your name will trust in you, for you, LORD , have never forsaken those who seek you.
Psalm 10:16-18 NASB
16 The LORD is King forever and ever; Nations have perished from His land.
17 O LORD, You have heard the desire of the humble; You will strengthen their heart,
You will incline Your ear
18 To vindicate the orphan and the oppressed, So that man who is of the earth
will no longer cause terror.
Psalm 104:31,32 NKJV
31 May the glory of the LORD endure forever; May the LORD rejoice in His works.
32 He looks on the earth, and it trembles; He touches the hills, and they smoke.
1 John 2:15-17 KJV
15 Love not the world, neither the things that are in the world. If any man love the world, the love of the Father is not in him.
16 For all that is in the world, the lust of the flesh, and the lust of the eyes, and the pride of life, is not of the Father, but is of the world.
17 And the world passeth away, and the lust thereof: but he that doeth the will of God abideth for ever.
Know Your Enemy
1 Peter 5:8 KJV
8 Be sober, be vigilant; because your adversary the devil, as a roaring lion, walketh about, seeking whom he may devour
Let Us Grow in Him
Ephesians 4:15 NIV
15 Speaking the truth in love, we will in all things grow up into him who is the Head, that is, Christ.
2 Peter 3:18 KJV
18 But grow in grace, and in the knowledge of our Lord and Saviour Jesus Christ. To him be glory both now and for ever.
2 Corinthians 3:18 NASB
18 But we all, with unveiled face, beholding as in a mirror the glory of the Lord, are being transformed into the same image from glory to glory, just as from the Lord, the Spirit.
Romans 8:6-8 KJV
6 For to be carnally minded is death; but to be spiritually minded is life and peace.
7 Because the carnal mind is enmity against God: for it is not subject to the law of God, neither indeed can be.
8 So then they that are in the flesh cannot please God.
Revelation 12:9 NIV
9 The great dragon was hurled down–that ancient serpent called the devil, or Satan, who leads the whole world astray. He was hurled to the earth, and his angels with him.
2 Corinthians 11:14,15 NASB
14 No wonder, for even Satan disguises himself as an angel of light.
15 Therefore it is not surprising if his servants also disguise themselves as servants of righteousness, whose end will be according to their deeds.
James 4:7 KJV
7 Submit yourselves therefore to God. Resist the devil and he will flee from you.
Thanks be unto God for His wonderful gift: Jesus Christ, the only begotten Son of God is the object of our faith; the only faith that saves is faith in Him.
Putting Away Fleshly Lusts
Romans 13:12-14 NIV
12 The night is nearly over; the day is almost here.
13 So let us put aside the deeds of darkness and put on the armor of light. Let us behave decently, as in the daytime, not in orgies and drunkenness, not in sexual immorality and debauchery, not in dissension and jealousy.
14 Rather, clothe yourselves with the Lord Jesus Christ, and do not think about how to gratify the desires of the sinful nature.
Galatians 5:24,25 KJV
24 And they that are Christ's have crucified the flesh with the affections and lusts.
25 If we live in the Spirit, let us also walk in the Spirit.
Romans 8:6-8 NASB
6 For the mind set on the flesh is death, but the mind set on the Spirit is life and peace,
7 because the mind set on the flesh is hostile toward God; for it does not subject itself to the law of God, for it is not even able to do so,
8 and those who are in the flesh cannot please God.
God is Love – All Powerful, All Knowing, Intimately Acquainted with all our ways… Mirror, Mirror…
1 Corinthians 13:11,12 NIV
11 When I was a child, I talked like a child, I thought like a child, I reasoned like a child. When I became a man, I put childish ways behind me.
12 Now we see but a poor reflection as in a mirror; then we shall see face to face. Now I know in part; then I shall know fully, even as I am fully known.
James 1:23-25 KJV
23 For if any be a hearer of the word, and not a doer, he is like unto a man beholding his natural face in a glass:
24 for he beholdeth himself, and goeth his way, and straightway forgetteth what manner of man he was.
25 But whoso looketh into the perfect law of liberty, and continueth therein, he being not a forgetful hearer, but a doer of the work, this man shall be blessed in his deed.
2 Corinthians 3:18 NASB
18 But we all, with unveiled face, beholding as in a mirror the glory of the Lord, are being transformed into the same image from glory to glory, just as from the Lord, the Spirit.
"Well Done!" Blessed words…
Matthew 25:21 NIV
21 His master replied, 'Well done, good and faithful servant! You have been faithful with a few things; I will put you in charge of many things. Come and share your master's happiness! "
2 Corinthians 5:9 KJV
9 Wherefore we labour, that, whether present or absent, we may be accepted of him.
2 Timothy 2:3,4 NASB
3 Suffer hardship with me, as a good soldier of Christ Jesus.
4 No soldier in active service entangles himself in the affairs of everyday life, so that he may please the one who enlisted him as a soldier.
Romans 8:1 NASB
1 Therefore there is now no condemnation for those who are in Christ Jesus.
We are His beloved children
1 John 3:2 NIV
2 Dear friends, now we are children of God, and what we will be has not yet been made known. But we know that when He appears, we shall be like Him, for we shall see Him as He is.
2 Corinthians 6:2 RSV
For He says, "At the acceptable time I have listened to you, and helped you on the day of salvation." Behold, now is the acceptable time; behold, now is the day of salvation.
Colossians 1:21,22 KJV
21 And you, that were sometime alienated and enemies in your mind by wicked works, yet now hath He reconciled
22 in the body of His flesh through death, to present you holy and unblameable and unreproveable in His sight.
To Titus, a true son in our common faith:
Titus 1:4 NKJV
4 Grace, mercy, and peace from God the Father and the Lord Jesus Christ our Savior.
Romans 3:23,24 NASB
23 For all have sinned and fall short of the glory of God,
24 being justified as a gift by His grace through the redemption which is in Christ Jesus;
Hebrews 4:14-16 NKJV
14 Seeing then that we have a great High Priest who has passed through the heavens, Jesus the Son of God, let us hold fast our confession.
15 For we do not have a High Priest who cannot sympathize with our weaknesses, but was in all points tempted as we are, yet without sin.
16 Let us therefore come boldly to the throne of grace, that we may obtain mercy and find grace to help in time of need.
Romans 5:1,2 NIV
1 Therefore, since we have been justified through faith, we have peace with God through our Lord Jesus Christ, through whom we have gained access by faith into this grace in which we now stand.
2 And we rejoice in the hope of the glory of God.
We need a Savior because we are sinners, and the wages of sin is death…
Cease from sin.
1 Peter 4:1-4 ESV
1 Since therefore Christ suffered in the flesh, arm yourselves with the same way of thinking, for whoever has suffered in the flesh has ceased from sin,
2 so as to live for the rest of the time in the flesh no longer for human passions but for the will of God.
3 The time that is past suffices for doing what the Gentiles want to do, living in sensuality, passions, drunkenness, orgies, drinking parties, and lawless idolatry.
4 With respect to this they are surprised when you do not join them in the same flood of debauchery, and they malign you.
Jesus 1  Jesus 2  Jesus 3  Jesus 4  Jesus 5  Jesus 6  Jesus 7  Jesus 8  Jesus 9  Jesus 10  Jesus 11
Jesus 12  Jesus 13  Jesus 14  Jesus 15  Jesus 16  Jesus 17  Jesus 18  Jesus 19  Jesus 20  Jesus 21  Jesus 22  Jesus 23