THANKSGIVING: The "Gratitude Attitude"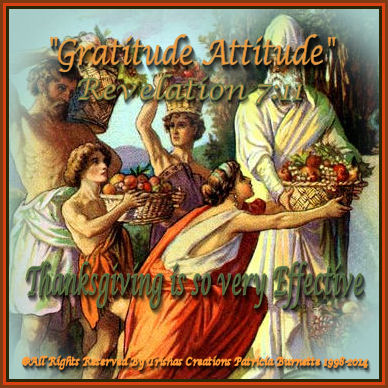 THANKSGIVING: The "Gratitude Attitude"
I am not sure where I got this from, but I really thought this may interest you and help you in ways of Gratitude of Attitude, or maybe you know someone it may help.
More than anything else, thanksgiving ushers the power and presence of God into every situation. Thanksgiving is so very Effective because it is the character and nature of God in operation. YOU can release the power of God into your situation through thanksgiving. You do the praising and the thanking, but God is the power behind the results-and He gets all the glory.
Thanksgiving on earth is so powerful because it actually begins in heaven. Those around God's throne are constantly giving thanks to Him (see Revelation 7:11,12). All of heaven is praising and thanking God; and when we begin to thank Him here on earth, we begin to be united with heaven itself. That's the power of Thanksgiving!
Jesus knew the power of thanksgiving and He used it in His life. He thanked the Father for the revelation that was given to His disciples (see Matthew 11:25). As they received revelation, Jesus again thanked His Father. Sometimes He even gave thanks in advance of coming blessings because He knew there is power in praising and thanking God before seeing the answers to the prayers.
Every prayer or request you make of God should be accompanied with thanksgiving: "Be careful for nothing: but in every thing by prayer and supplication with thanksgiving let your request be made known unto God"(Philippians 4:6). Then after you've prayed with thanksgiving: "Continue in prayer, and watch in the same thanksgiving" (Colossians 4:2).
Paul developed the habit of always giving thanks, and he walked in God's power more than anyone else in his day. In the Old testament, we see that Daniel was prepared for the lion's den because he was in the habit of praying and giving thanks. He knew that when you give thanks, you release God's power–and that power took him through the lion';s den. Now is the time to prepare for the lions that you could face. You need to give thanks daily; then when life's lions are set loose, they'll lie down and roll over like kittens!
Thanksgiving is a rising power that rises up to then Father; it causes you to be raised; it raises your circumstances and changes things around you. Do you like victory? Of course! Then how do you get it? Through thanksgiving: "But thanks be to God, which giveth the victory through our Lord Jesus Christ" (I Corinthians 15:57).
If you want someone to pray with you about your gratitude attitude, call the Prayer Center at (303) 796-1333 weekdays from 4 a.m. to 4:30 p.m. (MT) Marilyn Hickey Ministries.