Continue to Wait In Faith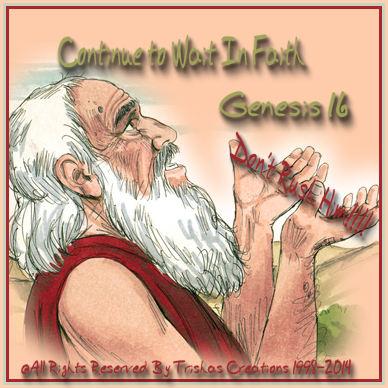 Genesis 16

Abram and Sarai, get tired of waiting on God to give them a child, so Sari asked her maid servant if she would give her a child through her husband.
Hagar her maid servant agreed, and Hagar did become pregnant with Abram's & Sarai child, and he was call Ishmael as God told Abram & Sarai.
It appeared to Abram and Sarai that God wasn't doing what He promised, so Sarai get tired of waiting in faith.
We all seen to get tired of waiting and we try to hurry God's plan by jumping in before it's time and we always find out we should've continued in faith.
God has plans for our lives, and he will bring them to pass out His perfect timing not our timing. Wait for God, to do His perfect plan don't try try to hurry it up and make misses of things.
No matter what we are waiting for God to do, we must wait and not give up. I prayed and prayed and still praying for the healing of my family, my husband, my sisters, my mother but I still haven't given up and I have been praying for many years.
Just because God hasn't answered, doesn't mean He's not listening, it only means He's going to work in His own timing, and that timing is not just our timing, it's God's timing and it could be the person which we are praying for just isn't ready for what God wants to do in their lives.
Continue Having Faith In God
Don't Rush Him!!!!