I PLEAD The Blood Of Jesus 3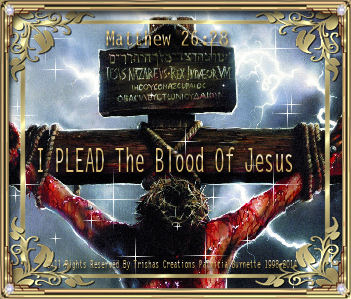 I PLEAD The Blood Of Jesus
I have learnt that, when you want to Receive FULL Control, over
Satan and his lies and deceit, then you MUST Claim The Blood Over
Your Life and family. Satan can not touch the BLOOD OF JESUS
CHRIST…….
I claimed the Blood on everything around me, my husband, my mother
"Ellen Kunkle" material things in which I would not have gotten if
it wasn't for the Lord. I claimed the BLOOD Of Jesus on my family,
my finances my Business everything. And, it works…….
PATRICIA BURNETTE OF MISSISSIPPI & AL
(SO THEREFORE I PLEAD THE BLOOD!!)
If, you ARE NOT ASHAMED of CHRIST, and You Claim Him As Your Personal SAVIOR…..and If, you Want To Claim The
BLOOD OF JESUS CHRIST…..
Over Everything and Everybody around you……Please Let Us Add YOUR NAME, CITY…HERE: and list what Your Are Claiming Jesus'
Blood to Cover…In Your Life!
I PLEAD THE BLOOD OF JESUS !!!

(NOTE: A NEW FORM IS COMING… WE ARE WORKING TO GET IT GOING Please
Understand…. Thanks God Bless You)

Name

State

Date Claimed

For Whom

Patricia Burnette

AL

1990

My
Family

Cassandra Johnson

AL

2005


Herself/Kids