Not a Destination but a Path
Prayer: Not a Destination but a Path
by

Kathi Lambrides Westlund
We are sojourners in this life. Each day, we travel an unfamiliar path toward a sure destination. God is our ever-present companion–guiding and protecting, comforting and convicting us, but we are often unaware of Him…
Prayer is our means of acknowledging God's presence and seeking His help on our daily journey. It is God's way of giving us access to Him. He commands us to pray because He knows that we need Him. We need His redemption, His guidance, His courage, His forgiveness, His sustenance, His peace. He knows that we need what He has–that we have no where else to turn!…
In heeding God's command to pray, we become part of a humbling and powerful collaboration:
When God calls us to pray, He isn't calling us to do something for Him. He's calling us to receive something from Him–something we need: His light for our daily journey.
We, sojourners, have Jesus as our light and the Holy Spirit as our guide…We are not traveling alone. The presence and the power of the Triune God are ours.
We've all had the experience of carefully relying on a map or GPS to navigate a complicated route to a new place. Then, gradually, with repeated trips on the same road, we don't need to rely on navigational tools. We have internalized the map. It has become part of us. We know the way.
The same thing happens with prayer.
Prayer should not be a formula but a pattern – not a chain but a path–to help you as you make your way. God uses well-established spiritual disciplines to guide us when our emotions run thin and our motivations are weak. Every Christian is prayerless in some, perhaps many, seasons of life. Like any frequently traveled path, a path of prayer allows our faltering steps to progress, even if our hearts are not fully engaged. Often, the heart is sparked by the comforting routine of prayer, courage is restored, joy eventually returns.
We are all, gradually, moving toward hard times in life, if we haven't gone through them already. You won't learn to pray in the emergency room–that's where you'll speechlessly lean into Jesus. You won't learn to pray in your overturned car–that's where you'll just cry out His name. You won't learn to pray in your living room while reeling from a loved one's bad decisions–that's when you'll just weep to God. Learning the way when life is somewhat stable makes us familiar with the path so that we can run straight to Him in the dark, like a nightmare-scared child instinctively making his way to his parents' bed.
We are with God all the way; He is the route, and He is the destination.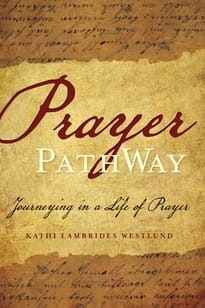 [Editor's note: This content was taken from Prayer Pathway: Journeying in a Life of Prayer, written by Kathi Lambrides Westlund. (c)2016 by Kathi Lambrides Westlund. Used by permission of P&R Publishing, www.prpbooks.com.]
Kathi Lambrides Westlund is a wife, a mother, a home educator, and a pray-er. Along with her passion for her family, her desire is to encourage women in mentoring relationships and to inspire people in personal practical habits of prayer. Find out more at PrayerPathway.com.
Prayer

: Not a Destination but a Path
by

Kathi Lambrides Westlund
Image courtesy: Unsplash.com
Publication date: February 14, 2017
Jesus 1  Jesus 2  Jesus 3  Jesus 4  Jesus 5  Jesus 6  Jesus 7  Jesus 8  Jesus 9  Jesus 10  Jesus 11
Jesus 12  Jesus 13  Jesus 14  Jesus 15  Jesus 16  Jesus 17  Jesus 18  Jesus 19  Jesus 20  Jesus 21  Jesus 22  Jesus 23