Scripture Verses On 166 Bible Verses about Prosperity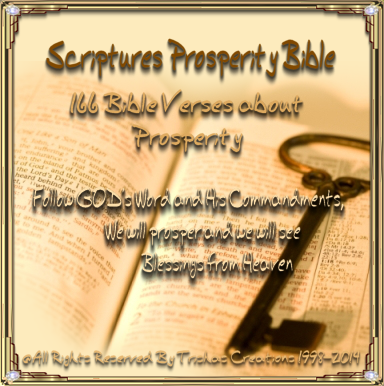 Scriptures Prosperity Bible
166 Bible Verses about
Prosperity

There are so many who are not understanding the"Prosperity" which God gives His people. So, many are confusing it with no understanding of what God's words says. If, we follow God's Word and His commandments, we will prosper and we will see Blessings from Heaven pour down.
God wants to Bless us with Prosperity He truly does, but it's all up to us in how we act and how we do for Him and of course treat other's.
Prosperity, is a Gift from God , He wants us all to prosper and be in good health, we live a Christian Life, and we give to other's and give to Him and do all we can to live for Him. We will see His presence in all we do.
God, wants us all to prosper and be in good health, but if we are not doing what we should be doing and acting the way we should, then how can we expect God's Prosperity to pour down from the Heaven's.
Yes we are to be watchful, on the leaders we have but…. "WE ARE NOT TO JUDGE THEM" we do NOT know what they do, and it is wrong for us to judge and say what they are doing and not doing. God is the only Judge and if they are doing wrong then they will be judged on judgment day.
I have listed "166 Prosperity Scriptures" which I am in hopes which will help you better understand the meaning of Prosperity and how it applies to Our lives. God, Loves us, and all He wants us to do is Love Him and follow His commandments and live for Him, and tell other's about Him.
So many people are being deceived, into believing other mess and not reading and searching God's Word. In stead of blaming this person or pastor for this or blaming them for not doing this or that, stop and question yourself, "what am I NOT doing."
166 Bible Verses about Prosperity
From The Old Testament

From The Old Testament

Genesis 12:2-3  (KJV)

2 And I will make of thee a great nation, and I will bless thee, and make thy name great; and thou shalt be a blessing:

3 And I will bless them that bless thee, and curse him that curseth thee: and in thee shall all families of the earth be blessed.

Genesis 15:1 (KJV)

15 After these things the word of the Lord came unto Abram in a vision, saying, Fear not, Abram: I am thy shield, and thy exceeding great reward.

Genesis 33:11 (KJV)

11 Take, I pray thee, my blessing that is brought to thee; because God hath dealt graciously with me, and because I have enough. And he urged him, and he took it.

Genesis 49:24-26 (KJV)

24 But his bow abode in strength, and the arms of his hands were made strong by the hands of the mighty God of Jacob; (from thence is the shepherd, the stone of Israel:)

25 Even by the God of thy father, who shall help thee; and by the Almighty, who shall bless thee with blessings of heaven above, blessings of the deep that lieth under, blessings of the breasts, and of the womb:

26 The blessings of thy father have prevailed above the blessings of my progenitors unto the utmost bound of the everlasting hills: they shall be on the head of Joseph, and on the crown of the head of him that was separate from his brethren.

Deuteronomy 8:1-20 (KJV)

1 All the commandments which I command thee this day shall ye observe to do, that ye may live, and multiply, and go in and possess the land which the Lord sware unto your fathers.

2 And thou shalt remember all the way which the Lord thy God led thee these forty years in the wilderness, to humble thee, and to prove thee, to know what was in thine heart, whether thou wouldest keep his commandments, or no.

3 And he humbled thee, and suffered thee to hunger, and fed thee with manna, which thou knewest not, neither did thy fathers know; that he might make thee know that man doth not live by bread only, but by every word that proceedeth out of the mouth of the Lord doth man live.

4 Thy raiment waxed not old upon thee, neither did thy foot swell, these forty years.

5 Thou shalt also consider in thine heart, that, as a man chasteneth his son, so the Lord thy God chasteneth thee.

6 Therefore thou shalt keep the commandments of the Lord thy God, to walk in his ways, and to fear him.

7 For the Lord thy God bringeth thee into a good land, a land of brooks of water, of fountains and depths that spring out of valleys and hills;

8 A land of wheat, and barley, and vines, and fig trees, and pomegranates; a land of oil olive, and honey;

9 A land wherein thou shalt eat bread without scarceness, thou shalt not lack any thing in it; a land whose stones are iron, and out of whose hills thou mayest dig brass.

10 When thou hast eaten and art full, then thou shalt bless the Lord thy God for the good land which he hath given thee.

11 Beware that thou forget not the Lord thy God, in not keeping his commandments, and his judgments, and his statutes, which I command thee this day:

12 Lest when thou hast eaten and art full, and hast built goodly houses, and dwelt therein;

13 And when thy herds and thy flocks multiply, and thy silver and thy gold is multiplied, and all that thou hast is multiplied;

14 Then thine heart be lifted up, and thou forget the Lord thy God, which brought thee forth out of the land of Egypt, from the house of bondage;

15 Who led thee through that great and terrible wilderness, wherein were fiery serpents, and scorpions, and drought, where there was no water; who brought thee forth water out of the rock of flint;

16 Who fed thee in the wilderness with manna, which thy fathers knew not, that he might humble thee, and that he might prove thee, to do thee good at thy latter end;

17 And thou say in thine heart, My power and the might of mine hand hath gotten me this wealth.

18 But thou shalt remember the Lord thy God: for it is he that giveth thee power to get wealth, that he may establish his covenant which he sware unto thy fathers, as it is this day.

19 And it shall be, if thou do at all forget the Lord thy God, and walk after other gods, and serve them, and worship them, I testify against you this day that ye shall surely perish.

20 As the nations which the Lord destroyeth before your face, so shall ye perish; because ye would not be obedient unto the voice of the Lord your God.

Deuteronomy 15:10 (KJV)

10 Thou shalt surely give him, and thine heart shall not be grieved when thou givest unto him: because that for this thing the Lord thy God shall bless thee in all thy works, and in all that thou puttest thine hand unto.

Deuteronomy 28:12 (KJV)

12 The Lord shall open unto thee his good treasure, the heaven to give the rain unto thy land in his season, and to bless all the work of thine hand: and thou shalt lend unto many nations, and thou shalt not borrow.

Deuteronomy 28:1-14 (KJV)

1 And it shall come to pass, if thou shalt hearken diligently unto the voice of the Lord thy God, to observe and to do all his commandments which I command thee this day, that the Lord thy God will set thee on high above all nations of the earth:

2 And all these blessings shall come on thee, and overtake thee, if thou shalt hearken unto the voice of the Lord thy God.

3 Blessed shalt thou be in the city, and blessed shalt thou be in the field.

4 Blessed shall be the fruit of thy body, and the fruit of thy ground, and the fruit of thy cattle, the increase of thy kine, and the flocks of thy sheep.

5 Blessed shall be thy basket and thy store.

6 Blessed shalt thou be when thou comest in, and blessed shalt thou be when thou goest out.

7 The Lord shall cause thine enemies that rise up against thee to be smitten before thy face: they shall come out against thee one way, and flee before thee seven ways.

8 The Lord shall command the blessing upon thee in thy storehouses, and in all that thou settest thine hand unto; and he shall bless thee in the land which the Lord thy God giveth thee.

9 The Lord shall establish thee an holy people unto himself, as he hath sworn unto thee, if thou shalt keep the commandments of the Lord thy God, and walk in his ways.

10 And all people of the earth shall see that thou art called by the name of the Lord; and they shall be afraid of thee.

11 And the Lord shall make thee plenteous in goods, in the fruit of thy body, and in the fruit of thy cattle, and in the fruit of thy ground, in the land which the Lord sware unto thy fathers to give thee.

12 The Lord shall open unto thee his good treasure, the heaven to give the rain unto thy land in his season, and to bless all the work of thine hand: and thou shalt lend unto many nations, and thou shalt not borrow.

13 And the Lord shall make thee the head, and not the tail; and thou shalt be above only, and thou shalt not be beneath; if that thou hearken unto the commandments of the Lord thy God, which I command thee this day, to observe and to do them:

14 And thou shalt not go aside from any of the words which I command thee this day, to the right hand, or to the left, to go after other gods to serve them.

Deuteronomy 30:8-10 (KJV)

8 And thou shalt return and obey the voice of the Lord, and do all his commandments which I command thee this day.

9 And the Lord thy God will make thee plenteous in every work of thine hand, in the fruit of thy body, and in the fruit of thy cattle, and in the fruit of thy land, for good: for the Lord will again rejoice over thee for good, as he rejoiced over thy fathers:

10 If thou shalt hearken unto the voice of the Lord thy God, to keep his commandments and his statutes which are written in this book of the law, and if thou turn unto the Lord thy God with all thine heart, and with all thy soul.

Joshua 1:8 (KJV)

8 This book of the law shall not depart out of thy mouth; but thou shalt meditate therein day and night, that thou mayest observe to do according to all that is written therein: for then thou shalt make thy way prosperous, and then thou shalt have good success.

Joshua 1:9 (KJV)

9 Have not I commanded thee? Be strong and of a good courage; be not afraid, neither be thou dismayed: for the Lord thy God is with thee whithersoever thou goest.

1 Samuel 25:6 (KJV)

6 And thus shall ye say to him that liveth in prosperity, Peace be both to thee, and peace be to thine house, and peace be unto all that thou hast.

1 Kings 10:7 (KJV)

Howbeit I believed not the words, until I came, and mine eyes had seen it: and, behold, the half was not told me: thy wisdom and prosperity exceedeth the fame which I heard.

Nehemiah 2:20 (KJV)

20 Then answered I them, and said unto them, The God of heaven, he will prosper us; therefore we his servants will arise and build: but ye have no portion, nor right, nor memorial, in Jerusalem.

2 Chronicles 31:20-21 (KJV)

20 And thus did Hezekiah throughout all Judah, and wrought that which was good and right and truth before the Lord his God.

21 And in every work that he began in the service of the house of God, and in the law, and in the commandments, to seek his God, he did it with all his heart, and prospered.

Job 12:5 (KJV)

5 He that is ready to slip with his feet is as a lamp despised in the thought of him that is at ease.

Job 22:23-27 (KJV)

23 If thou return to the Almighty, thou shalt be built up, thou shalt put away iniquity far from thy tabernacles.

24 Then shalt thou lay up gold as dust, and the gold of Ophir as the stones of the brooks.

25 Yea, the Almighty shall be thy defence, and thou shalt have plenty of silver.

26 For then shalt thou have thy delight in the Almighty, and shalt lift up thy face unto God.

27 Thou shalt make thy prayer unto him, and he shall hear thee, and thou shalt pay thy vows.

Job 36:11 (KJV)

If they obey and serve him, they shall spend their days in prosperity, and their years in pleasures.

Psalm 1:1-6 (KJV)

1 Blessed is the man that walketh not in the counsel of the ungodly, nor standeth in the way of sinners, nor sitteth in the seat of the scornful.

2 But his delight is in the law of the Lord; and in his law doth he meditate day and night.

3 And he shall be like a tree planted by the rivers of water, that bringeth forth his fruit in his season; his leaf also shall not wither; and whatsoever he doeth shall prosper.

4 The ungodly are not so: but are like the chaff which the wind driveth away.

5 Therefore the ungodly shall not stand in the judgment, nor sinners in the congregation of the righteous.

6 For the Lord knoweth the way of the righteous: but the way of the ungodly shall perish.Psalm 9:18 (KJV)

For the needy shall not always be forgotten: the expectation of the poor shall not perish for ever.

Psalm 23:1-3 (KJV)

1 The Lord is my shepherd; I shall not want.

2 He maketh me to lie down in green pastures: he leadeth me beside the still waters.

3 He restoreth my soul: he leadeth me in the paths of righteousness for his name's sake.

Psalm 24:1 (KJV)

1 The earth is the Lord's, and the fulness thereof; the world, and they that dwell therein.

Psalm 30:6  (KJV)

And in my prosperity I said, I shall never be moved.

Psalm 35:27  (KJV)

Let them shout for joy, and be glad, that favour my righteous cause: yea, let them say continually, Let the Lord be magnified, which hath pleasure in the prosperity of his servant.

Psalm 34:8-10 (KJV)

8 O taste and see that the Lord is good: blessed is the man that trusteth in him.

9 O fear the Lord, ye his saints: for there is no want to them that fear him.

10 The young lions do lack, and suffer hunger: but they that seek the Lord shall not want any good thing.

Psalm 37:18-19 (KJV)

18 The Lord knoweth the days of the upright: and their inheritance shall be for ever.

19 They shall not be ashamed in the evil time: and in the days of famine they shall be satisfied.

Psalm 40:17 (KJV)

17 But I am poor and needy; yet the Lord thinketh upon me: thou art my help and my deliverer; make no tarrying, O my God.

Psalm 84:11 (KJV)

11 For the Lord God is a sun and shield: the Lord will give grace and glory: no good thing will he withhold from them that walk uprightly.

Psalm 112:1-3 (KJV)

112 Praise ye the Lord. Blessed is the man that feareth the Lord, that delighteth greatly in his commandments.

2 His seed shall be mighty upon earth: the generation of the upright shall be blessed.

3 Wealth and riches shall be in his house: and his righteousness endureth for ever.

Psalm 118:1 (KJV)

118 O give thanks unto the Lord; for he is good: because his mercy endureth for ever.

Psalm 118:25 (KJV)

25 Save now, I beseech thee, O Lord: O Lord, I beseech thee, send now prosperity.

Psalm 122:7  (KJV)

Peace be within thy walls, and prosperity within thy palaces.

Psalm 128:1 (KJV)

128 Blessed is every one that feareth the Lord; that walketh in his ways.

Psalm 128:2 (KJV)

2 For thou shalt eat the labour of thine hands: happy shalt thou be, and it shall be well with thee.

Proverbs 3:1-2 (KJV)

3 My son, forget not my law; but let thine heart keep my commandments:

2 For length of days, and long life, and peace, shall they add to thee.

Proverbs 3:9-10 (KJV)

9 Honour the Lord with thy substance, and with the firstfruits of all thine increase:

10 So shall thy barns be filled with plenty, and thy presses shall burst out with new wine.

Proverbs 10:22 (KJV)

22 The blessing of the Lord, it maketh rich, and he addeth no sorrow with it.

Proverbs 15:15 (KJV)

15 All the days of the afflicted are evil: but he that is of a merry heart hath a continual feast.

Proverbs 28:25 (KJV)

25 He that is of a proud heart stirreth up strife: but he that putteth his trust in the Lord shall be made fat.

Ecclesiastes 7:14 (KJV)

14 In the day of prosperity be joyful, but in the day of adversity consider: God also hath set the one over against the other, to the end that man should find nothing after him.

Ecclesiastes 10:19 (KJV)

19 A feast is made for laughter, and wine maketh merry: but money answereth all things.

Jeremiah 17:10 (KJV)

10 I the Lord search the heart, I try the reins, even to give every man according to his ways, and according to the fruit of his doings.

Jeremiah 29:11-14 (KJV)

11 For I know the thoughts that I think toward you, saith the Lord, thoughts of peace, and not of evil, to give you an expected end.

12 Then shall ye call upon me, and ye shall go and pray unto me, and I will hearken unto you.

13 And ye shall seek me, and find me, when ye shall search for me with all your heart.

14 And I will be found of you, saith the Lord: and I will turn away your captivity, and I will gather you from all the nations, and from all the places whither I have driven you, saith the Lord; and I will bring you again into the place whence I caused you to be carried away captive.

Jeremiah 33:9 (KJV)

And it shall be to me a name of joy, a praise and an honour before all the nations of the earth, which shall hear all the good that I do unto them: and they shall fear and tremble for all the goodness and for all the prosperity that I procure unto it.

Hosea 4:7 (KJV)

7 As they were increased, so they sinned against me: therefore will I change their glory into shame.

Hosea 13:6 (KJV)

6 According to their pasture, so were they filled; they were filled, and their heart was exalted; therefore have they forgotten me.

Zechariah 1:17 (KJV)

Cry yet, saying, Thus saith the Lord of hosts; My cities through prosperity shall yet be spread abroad; and the Lord shall yet comfort Zion, and shall yet choose Jerusalem.

Zechariah 7:7 (KJV)

Should ye not hear the words which the Lord hath cried by the former prophets, when Jerusalem was inhabited and in prosperity, and the cities thereof round about her, when men inhabited the south and the plain?

Zechariah 9:12 (KJV)

12 Turn you to the strong hold, ye prisoners of hope: even to day do I declare that I will render double unto thee;

Malachi 3:10 (KJV)

10 Bring ye all the tithes into the storehouse, that there may be meat in mine house, and prove me now herewith, saith the Lord of hosts, if I will not open you the windows of heaven, and pour you out a blessing, that there shall not be room enough to receive it.

From The New Testament

Matthew 6:3 (KJV)

3 But when thou doest alms, let not thy left hand know what thy right hand doeth:

Matthew 6:19 (KJV)

19 Lay not up for yourselves treasures upon earth, where moth and rust doth corrupt, and where thieves break through and steal:

Matthew 6:33 (KJV)

33 But seek ye first the kingdom of God, and his righteousness; and all these things shall be added unto you.

Matthew 10:8 (KJV)

8 Heal the sick, cleanse the lepers, raise the dead, cast out devils: freely ye have received, freely give.

Matthew 6:24 (KJV)

24 No man can serve two masters: for either he will hate the one, and love the other; or else he will hold to the one, and despise the other. Ye cannot serve God and mammon.

Matthew 25:15 (KJV)

15 And unto one he gave five talents, to another two, and to another one; to every man according to his several ability; and straightway took his journey.

Matthew 25:26-30 (KJV)

26 His lord answered and said unto him, Thou wicked and slothful servant, thou knewest that I reap where I sowed not, and gather where I have not strawed:

27 Thou oughtest therefore to have put my money to the exchangers, and then at my coming I should have received mine own with usury.

28 Take therefore the talent from him, and give it unto him which hath ten talents.

29 For unto every one that hath shall be given, and he shall have abundance: but from him that hath not shall be taken away even that which he hath.

30 And cast ye the unprofitable servant into outer darkness: there shall be weeping and gnashing of teeth.

Mark 10:29-30 (KJV)

29 And Jesus answered and said, Verily I say unto you, There is no man that hath left house, or brethren, or sisters, or father, or mother, or wife, or children, or lands, for my sake, and the gospel's,

30 But he shall receive an hundredfold now in this time, houses, and brethren, and sisters, and mothers, and children, and lands, with persecutions; and in the world to come eternal life.

Mark 11:23-24 (KJV)

23 For verily I say unto you, That whosoever shall say unto this mountain, Be thou removed, and be thou cast into the sea; and shall not doubt in his heart, but shall believe that those things which he saith shall come to pass; he shall have whatsoever he saith.

24 Therefore I say unto you, What things soever ye desire, when ye pray, believe that ye receive them, and ye shall have them.

Luke 6:38 (KJV)

38 Give, and it shall be given unto you; good measure, pressed down, and shaken together, and running over, shall men give into your bosom. For with the same measure that ye mete withal it shall be measured to you again.

John 5:39 (KJV)

39 Search the scriptures; for in them ye think ye have eternal life: and they are they which testify of me.

Acts 10:4 (KJV)

4 And when he looked on him, he was afraid, and said, What is it, Lord? And he said unto him, Thy prayers and thine alms are come up for a memorial before God.

Romans 8:11 (KJV)

11 But if the Spirit of him that raised up Jesus from the dead dwell in you, he that raised up Christ from the dead shall also quicken your mortal bodies by his Spirit that dwelleth in you.

1 Corinthians 7:29 (KJV)

29 But this I say, brethren, the time is short: it remaineth, that both they that have wives be as though they had none;

1 Corinthians 10:22 (KJV)

22 Do we provoke the Lord to jealousy? are we stronger than he?

2 Corinthians 8:9 (KJV)

9 For ye know the grace of our Lord Jesus Christ, that, though he was rich, yet for your sakes he became poor, that ye through his poverty might be rich.

2 Corinthians 9:6 (KJV)

6 But this I say, He which soweth sparingly shall reap also sparingly; and he which soweth bountifully shall reap also bountifully.

2 Corinthians 9:8 (KJV)

8 And God is able to make all grace abound toward you; that ye, always having all sufficiency in all things, may abound to every good work:

2 Corinthians 9:10-15 (KJV)

10 Now he that ministereth seed to the sower both minister bread for your food, and multiply your seed sown, and increase the fruits of your righteousness;)

11 Being enriched in every thing to all bountifulness, which causeth through us thanksgiving to God.

12 For the administration of this service not only supplieth the want of the saints, but is abundant also by many thanksgivings unto God;

13 Whiles by the experiment of this ministration they glorify God for your professed subjection unto the gospel of Christ, and for your liberal distribution unto them, and unto all men;

14 And by their prayer for you, which long after you for the exceeding grace of God in you.

15 Thanks be unto God for his unspeakable gift

Ephesians 1:1-23 (KJV)

1 Paul, an apostle of Jesus Christ by the will of God, to the saints which are at Ephesus, and to the faithful in Christ Jesus:

2 Grace be to you, and peace, from God our Father, and from the Lord Jesus Christ.

3 Blessed be the God and Father of our Lord Jesus Christ, who hath blessed us with all spiritual blessings in heavenly places in Christ:

4 According as he hath chosen us in him before the foundation of the world, that we should be holy and without blame before him in love:

5 Having predestinated us unto the adoption of children by Jesus Christ to himself, according to the good pleasure of his will,

6 To the praise of the glory of his grace, wherein he hath made us accepted in the beloved.

7 In whom we have redemption through his blood, the forgiveness of sins, according to the riches of his grace;

8 Wherein he hath abounded toward us in all wisdom and prudence;

9 Having made known unto us the mystery of his will, according to his good pleasure which he hath purposed in himself:

10 That in the dispensation of the fulness of times he might gather together in one all things in Christ, both which are in heaven, and which are on earth; even in him:

11 In whom also we have obtained an inheritance, being predestinated according to the purpose of him who worketh all things after the counsel of his own will:

12 That we should be to the praise of his glory, who first trusted in Christ.

13 In whom ye also trusted, after that ye heard the word of truth, the gospel of your salvation: in whom also after that ye believed, ye were sealed with that holy Spirit of promise,

14 Which is the earnest of our inheritance until the redemption of the purchased possession, unto the praise of his glory.

15 Wherefore I also, after I heard of your faith in the Lord Jesus, and love unto all the saints,

16 Cease not to give thanks for you, making mention of you in my prayers;

17 That the God of our Lord Jesus Christ, the Father of glory, may give unto you the spirit of wisdom and revelation in the knowledge of him:

18 The eyes of your understanding being enlightened; that ye may know what is the hope of his calling, and what the riches of the glory of his inheritance in the saints,

19 And what is the exceeding greatness of his power to us-ward who believe, according to the working of his mighty power,

20 Which he wrought in Christ, when he raised him from the dead, and set him at his own right hand in the heavenly places,

21 Far above all principality, and power, and might, and dominion, and every name that is named, not only in this world, but also in that which is to come:

22 And hath put all things under his feet, and gave him to be the head over all things to the church,

23 Which is his body, the fullness of him that filleth all in all.

Ephesians 6:13 (KJV)

13 Wherefore take unto you the whole armour of God, that ye may be able to withstand in the evil day, and having done all, to stand.

Philippians 4:19 (KJV)

19 But my God shall supply all your need according to his riches in glory by Christ Jesus.

Colossians 3:13 (KJV)

13 Forbearing one another, and forgiving one another, if any man have a quarrel against any: even as Christ forgave you, so also do ye.

James 1:4 (KJV)

4 But let patience have her perfect work, that ye may be perfect and entire, wanting nothing.

3 John 1:2 (KJV)

2 Beloved, I wish above all things that thou mayest prosper and be in health, even as thy soul prospereth.