Decree to Myself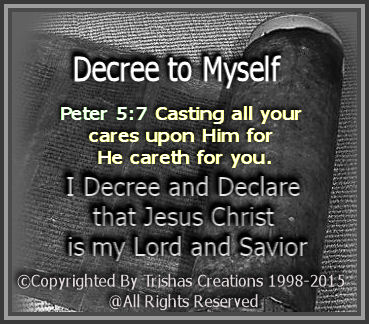 Decree to Myself
You can print this if you wish to and use this as your own. All you need to do is use your name.
In Jesus Name I ask that you guide me and help me with this Decree to myself. Help me remember and go by this Decree each and everyday. I accept you Father Jesus as my Lord and Savior, My King, Lord!
I Decree and Declare any and all unrighteousness to leave me alone, or any access to my life that pertains to anything which is not of God, to leave me and leave me alone. I Decree and Declare that Jesus Christ is my Lord and Savior and there is NO Other, He is my Redeemer and my Love. I will not be a subject to the devils evil ways or ideas which he tries to make me believe, the devil is a liar and I Decree and Declare that the Lord Jesus is and will always Love me and protect me from all harm and any evil which tries to come from the devil.
I Decree and Declare that My Jesus will protect me from all lies of the devil and I am covered by His Love Grace and Blood I have an inheritance in the Kingdom of Heaven which has been promised to me and I claim it by the Promises of my Lord and Savior Jesus Christ.
I refuse to believe in any evil, and refuse to entertain the devil, In Jesus Name Amen Amen!
Peter 5:7 Casting all your cares upon Him for He carreth for you.
 Page 1  Page 2  Page 3  Page 4  Page 5 Page 6 Page 7  Page 8  Page 9   Page 10  Page 11 Page 12  Page 13  Page 14