God Is a God Of Purpose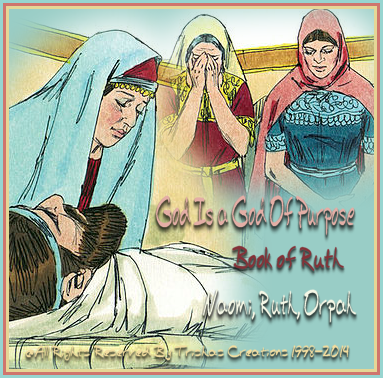 God Is a God Of Purpose
Book of Ruth

We may never understand why God allows things in our lives to happen, or how things turn out from bad, and always turns to good from it.
As, we read the Book of Ruth, Naomi, Ruth, Orpah, they all lost their husbands, and Naomi, she lost her husband and her two sons.
If, you have ever lost a husband to divorce, death then you are having to do things you may have never had to do before. But, God is there with you to help in your time of trouble, heartache, He will get you through.
We can recover with God's Love and comfort and His help. One of God's promise are He will always be with you, never to leave you.
Due to Ruths mother-in-law Naomi, she didn't resist temptation from hurt she was feeling, she was blurting out negative words from the emotions she was going through, but she shouldn't have did that.
Naomi was being tested, by what the Bible says, and we shouldn't speak out our emotions because being tested, we are supposed to be fruitful. But, with God's help we can hope as we mature in Jesus Christ. We learn how to control our feelings and emotions, and our mouth.
God has a Purpose for everybody and He had one for her to!