Moving Mountains In Our Life 6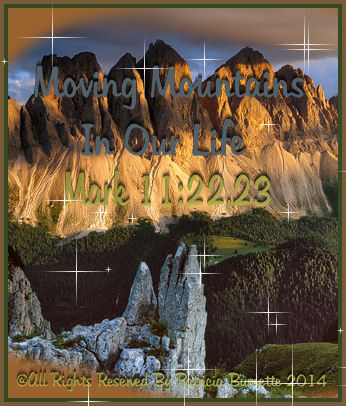 Moving Mountains In Our Life
When you travel or maybe you live in or near them pretty sure some or just gorgeous, but some are not pretty at all.
Some are so ugly and rugged that we just say "ugh"same in our own lives, just because some mountains are beautiful doesn't mean the ones in our lives which stand in our way are. We say beautiful things about the one we see in life.
In (Mark 11:22,23) Gods word instructs us to talk to that big mountain.
Jesus tells us like I have been telling my sisters and family many times. You talk to that mountain standing in your way, to be thou removed, cast out into the sea and return no more.
But keyword FAITH. This was a stern statement Jesus made, we are to speak to them firmly in Faith, commanding them to be lifted up and thrown into the sea, In Jesus Name –
You can not just say "Oh mountain just get out of the way and expect it to move" because it won't budge Gods word moves the mountains.
Speaking God's word against them, moves them!
But, yes there is a BUT:
When speaking to the mountains in our lives we have to be Obedient which is equally important. Gods word is powerful and speaking the word is necessary in moving the mountains in our lives.
If a person thinks he can act the way he wants and treat others the way they want, talk with cursing, hate, malice, boastings, selfishness, always thinking of themselves, lying, stealing, etc and they are telling their mountains to move and nothing is happening they need to think again.
When we live in sin and disobedience, knowing Gods word and we are not living the way God wants us to it is:DISOBEDIENCE
God speaks to us in a still small voice to our Spirit not our head, or minds, He speaks to our hearts. God will tell your heart what to say when you need that mountain moved in your life.
Here are some verses to help you understand what he is meaning by what He says!
Mark 11:22-26
(Verse 22) He talked about faith constantly to always have faith in God.
(Verse 23) He talked about releasing faith by speaking to the mountains.
(Verse 24) He spoke of Prayer and the importance of praying and believing prayers.
(Verse 25) He gave a command to forgive.
(Verse 26) He stated plainly if we do not forgive, hold (grudges) neither will our Father forgive us in Heaven our fallings and short comings.
If our hearts are full of unforgiveness, bitterness, hate, selfishness, deceit, there is no power you will ever have to move move those mountains which stand in your way of life.
If we okay Gods Laws and how he wishes for us to be and act we can move thousands of those unwanted mountains in our lives.
But we have to stay and stand firm in our Lord Jesus Christ, and do as he wants us to, to be in faith to do the things he wants us to do.
Ask the Lord to help you to get the full understanding and his word, so you can move mountains which stand in your way that are truly ugly mountains which stop you from being all you wish to be for bad and which stop you from doing what you need to be doing.
Mark 13:33
When you are hired to do a job, or anything you are being asked to do, do you mess around while your boss is gone or do you continue to work? Waiting on Jesus to return?
There are so many people who love to speculate when Jesus is returning, they try to give certain dates, years, months or they even say, "Oh, don't worry we have plenty of time." Do not waste time doing for Jesus, because we are to have our lamps burning for him all the time. Keep busy never think you have plenty of time and not work for him when you are to, because you will end up missing the mark and run out of time.