Scripture Verses On Giving1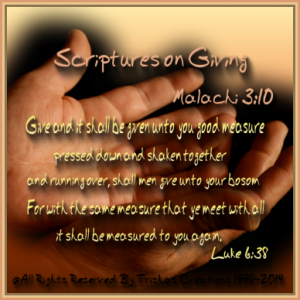 Scriptures on Giving
"Honor the Lord with thy substance, and with the first fruit of all thine increase:
So shall thy barns be filled with plenty, and thy presses shall burst out with new wine." (Proverbs 3:9-10).
My husband, has a problem with this one, he thinks that churches do not do what they say they do with "Our Tithes and Offerings" and I admit some don't, but most do. No matter if they do not we will not get judged for not giving to our churches and ministries.
Once we give in Faith and from our heart the rest is up to the church and the ministry, we are not liable for anything else that happens to it, because God loves a Faithful giver.
"Bring ye all the tithes into the storehouse, that there may be meat in thine house, and prove me now herewith, saith the Lord of hosts, if I will not open your windows of heaven, and pour you out a blessing, that there shall not be room enough to receive it." (Malachi 3:10).
"Give and it shall be given unto you good measure, pressed down and shaken together, and running over, shall men give unto your bosom. For with the same measure that ye meet with all it shall be measured to you again." (Luke 6:38).
"He which soweth sparingly shall reap also sparingly; and he which soweth bountifully shall reap also bountifully. Every man according as he feels in his heart, so let him give; not grudgingly, or of necessity: for God loveth a cheerful giver.
And God is able to make all grace (earthly blessings and favor) abound toward you; that ye always having all sufficiency in all things, may abound to every good works: (as it is written, he hath dispersed abroad, he hath given to the poor. His righteousness remaineth forever.
Now he that ministereth seed to the sower both minister bread for your food, and multiply your seed sown, and increase the fruits of your righteousness). (2 Corinthians 9:6-10).
"When thou vowest a vow unto God, defer not to pay it; for He hath no pleasure in fools, pay that which thou hast vowed. Better is it that thou shouldest not vow, than that thou shouldest vow and not pay." (Ecclesiastes 4:4-5).
"There is a sore evil which I have seen under the sun, namely riches kept for the owners therof to their hurt. But those riches perish by evil travail: and he begetteth a son, and there is nothing in his hand. (Ecclesiastes 5:13-14).