Scripture Verses On Prosperity / Finance 2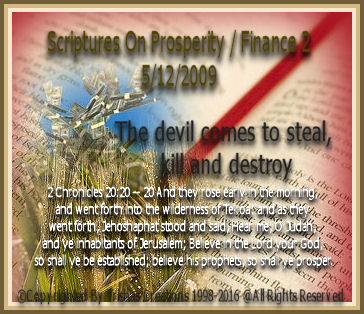 Scriptures On Prosperity / Finance 2
5/12/2009
Whether you realize it or not you have authority over your finances! And, you can have authority over all you go through to an extent.
Yes, we all go through trials that we are given in order to be able to go to the next phase that God has placed for us, but what I am talking about is, bondage!
As followers of Christ we can remove the bondage of satan from your jobs, income, curses in your life, family, even your health.
You can write a Decree & Declare statement and pray it everyday and trust God.
The devil comes to steal, kill and destroy, and one thing he don't want us to have is prosperity which God wants each of us to have.
I listed some verses for you to look up and be able to bookmark in your bibles or print them out for quick reference!
Genesis 24:40-56 — 40 And he said unto me, The Lord, before whom I walk, will send his angel with thee, and prosper thy way; and thou shalt take a wife for my son of my kindred, and of my father's house:
41 Then shalt thou be clear from this my oath, when thou comest to my kindred; and if they give not thee one, thou shalt be clear from my oath.
42 And I came this day unto the well, and said, O Lord God of my master Abraham, if now thou do prosper my way which I go:
43 Behold, I stand by the well of water; and it shall come to pass, that when the virgin cometh forth to draw water, and I say to her, Give me, I pray thee, a little water of thy pitcher to drink;
44 And she say to me, Both drink thou, and I will also draw for thy camels: let the same be the woman whom the Lord hath appointed out for my master's son.
45 And before I had done speaking in mine heart, behold, Rebekah came forth with her pitcher on her shoulder; and she went down unto the well, and drew water: and I said unto her, Let me drink, I pray thee.
46 And she made haste, and let down her pitcher from her shoulder, and said, Drink, and I will give thy camels drink also: so I drank, and she made the camels drink also.
47 And I asked her, and said, Whose daughter art thou? And she said, the daughter of Bethuel, Nahor's son, whom Milcah bare unto him: and I put the earring upon her face, and the bracelets upon her hands.
48 And I bowed down my head, and worshipped the Lord, and blessed the Lord God of my master Abraham, which had led me in the right way to take my master's brother's daughter unto his son.
49 And now if ye will deal kindly and truly with my master, tell me: and if not, tell me; that I may turn to the right hand, or to the left.
50 Then Laban and Bethuel answered and said, The thing proceedeth from the Lord: we cannot speak unto thee bad or good.
51 Behold, Rebekah is before thee, take her, and go, and let her be thy master's son's wife, as the Lord hath spoken.
52 And it came to pass, that, when Abraham's servant heard their words, he worshipped the Lord, bowing himself to the earth.
53 And the servant brought forth jewels of silver, and jewels of gold, and raiment, and gave them to Rebekah: he gave also to her brother and to her mother precious things.
54 And they did eat and drink, he and the men that were with him, and tarried all night; and they rose up in the morning, and he said, Send me away unto my master.
55 And her brother and her mother said, Let the damsel abide with us a few days, at the least ten; after that she shall go.
56 And he said unto them, Hinder me not, seeing the Lord hath prospered my way; send me away that I may go to my master.
Numbers 14:41 —  41 And Moses said, Wherefore now do ye transgress the commandment of the Lord? but it shall not prosper.
Deuteronomy 8:18 — 18 But thou shalt remember the Lord thy God: for it is he that giveth thee power to get wealth, that he may establish his covenant which he sware unto thy fathers, as it is this day.
Deuteronomy 28:8-12 — 8 The Lord shall command the blessing upon thee in thy storehouses, and in all that thou settest thine hand unto; and he shall bless thee in the land which the Lord thy God giveth thee.
9 The Lord shall establish thee an holy people unto himself, as he hath sworn unto thee, if thou shalt keep the commandments of the Lord thy God, and walk in his ways.
10 And all people of the earth shall see that thou art called by the name of the Lord; and they shall be afraid of thee.
11 And the Lord shall make thee plenteous in goods, in the fruit of thy body, and in the fruit of thy cattle, and in the fruit of thy ground, in the land which the Lord sware unto thy fathers to give thee.
12 The Lord shall open unto thee his good treasure, the heaven to give the rain unto thy land in his season, and to bless all the work of thine hand: and thou shalt lend unto many nations, and thou shalt not borrow.
Joshua 1:7-8 — 7 Only be thou strong and very courageous, that thou mayest observe to do according to all the law, which Moses my servant commanded thee: turn not from it to the right hand or to the left, that thou mayest prosper withersoever thou goest.
8 This book of the law shall not depart out of thy mouth; but thou shalt meditate therein day and night, that thou mayest observe to do according to all that is written therein: for then thou shalt make thy way prosperous, and then thou shalt have good success.
2 Chronicles 20:20 — 20 And they rose early in the morning, and went forth into the wilderness of Tekoa: and as they went forth, Jehoshaphat stood and said, Hear me, O Judah, and ye inhabitants of Jerusalem; Believe in the Lord your God, so shall ye be established; believe his prophets, so shall ye prosper.
2 Chronicles 24:20 — 20 And the Spirit of God came upon Zechariah the son of Jehoiada the priest, which stood above the people, and said unto them, Thus saith God, Why transgress ye the commandments of the Lord, that ye cannot prosper? because ye have forsaken the Lord, he hath also forsaken you.
2 Chronicles 31:20-21— 20 And thus did Hezekiah throughout all Judah, and wrought that which was good and right and truth before the Lord his God.
21 And in every work that he began in the service of the house of God, and in the law, and in the commandments, to seek his God, he did it with all his heart, and prospered.
2 Chronicles 9:6-10 — 6 Howbeit I believed not their words, until I came, and mine eyes had seen it: and, behold, the one half of the greatness of thy wisdom was not told me: for thou exceedest the fame that I heard.
7 Happy are thy men, and happy are these thy servants, which stand continually before thee, and hear thy wisdom.
8 Blessed be the Lord thy God, which delighted in thee to set thee on his throne, to be king for the Lord thy God: because thy God loved Israel, to establish them for ever, therefore made he thee king over them, to do judgment and justice.
9 And she gave the king an hundred and twenty talents of gold, and of spices great abundance, and precious stones: neither was there any such spice as the queen of Sheba gave king Solomon.
10 And the servants also of Huram, and the servants of Solomon, which brought gold from Ophir, brought algum trees and precious stones.
Ezra 6:14 — 14 And the elders of the Jews builded, and they prospered through the prophesying of Haggai the prophet and Zechariah the son of Iddo. And they builded, and finished it, according to the commandment of the God of Israel, and according to the commandment of Cyrus, and Darius, and Artaxerxes king of Persia.
Nehemiah 1:11— 11 O Lord, I beseech thee, let now thine ear be attentive to the prayer of thy servant, and to the prayer of thy servants, who desire to fear thy name: and prosper, I pray thee, thy servant this day, and grant him mercy in the sight of this man. For I was the king's cupbearer.
Nehemiah 2:20 — 20 Then answered I them, and said unto them, The God of heaven, he will prosper us; therefore we his servants will arise and build: but ye have no portion, nor right, nor memorial, in Jerusalem.
Psalms 1:3 —  3 And he shall be like a tree planted by the rivers of water, that bringeth forth his fruit in his season; his leaf also shall not wither; and whatsoever he doeth shall prosper.
Psalms 32:3,5 — 3 When I kept silence, my bones waxed old through my roaring all the day long.
5 I acknowledge my sin unto thee, and mine iniquity have I not hid. I said, I will confess my transgressions unto the Lord; and thou forgavest the iniquity of my sin. Selah.
Psalms 34:10 —10 The young lions do lack, and suffer hunger: but they that seek the Lord shall not want any good thing.
Psalms 35:27 —  27 Let them shout for joy, and be glad, that favour my righteous cause: yea, let them say continually, Let the Lord be magnified, which hath pleasure in the prosperity of his servant.
Psalms 37:7 —  7 Rest in the Lord, and wait patiently for him: fret not thyself because of him who prospereth in his way, because of the man who bringeth wicked devices to pass.
Psalms 73:3-12 —  3 For I was envious at the foolish, when I saw the prosperity of the wicked.
4 For there are no bands in their death: but their strength is firm.
5 They are not in trouble as other men; neither are they plagued like other men.
6 Therefore pride compasseth them about as a chain; violence covereth them as a garment.
7 Their eyes stand out with fatness: they have more than heart could wish.
8 They are corrupt, and speak wickedly concerning oppression: they speak loftily.
9 They set their mouth against the heavens, and their tongue walketh through the earth.
10 Therefore his people return hither: and waters of a full cup are wrung out to them.
11 And they say, How doth God know? and is there knowledge in the most High?
12 Behold, these are the ungodly, who prosper in the world; they increase in riches.
Psalms 112:9 — 9 He hath dispersed, he hath given to the poor; his righteousness endureth for ever; his horn shall be exalted with honour.
Proverbs 22:9 — 9 He that hath a bountiful eye shall be blessed; for he giveth of his bread to the poor.
Proverbs 28:13 — 13 He that covereth his sins shall not prosper: but whoso confesseth and forsaketh them shall have mercy.
Isaiah 55:10-11 — 10 For as the rain cometh down, and the snow from heaven, and returneth not thither, but watereth the earth, and maketh it bring forth and bud, that it may give seed to the sower, and bread to the eater:
11 So shall my word be that goeth forth out of my mouth: it shall not return unto me void, but it shall accomplish that which I please, and it shall prosper in the thing whereto I sent it.
Jeremiah 12:1-3 —  1 Righteous art thou, O Lord, when I plead with thee: yet let me talk with thee of thy judgments: Wherefore doth the way of the wicked prosper? wherefore are all they happy that deal very treacherously?
2 Thou hast planted them, yea, they have taken root: they grow, yea, they bring forth fruit: thou art near in their mouth, and far from their reins.
3 But thou, O Lord, knowest me: thou hast seen me, and tried mine heart toward thee: pull them out like sheep for the slaughter, and prepare them for the day of slaughter.
Jeremiah 20:11 — 11 But the Lord is with me as a mighty terrible one: therefore my persecutors shall stumble, and they shall not prevail: they shall be greatly ashamed; for they shall not prosper: their everlasting confusion shall never be forgotten.
Ezekiel 16:13-14 — 13 Thus wast thou decked with gold and silver; and thy raiment was of fine linen, and silk, and broidered work; thou didst eat fine flour, and honey, and oil: and thou wast exceeding beautiful, and thou didst prosper into a kingdom.
14 And thy renown went forth among the heathen for thy beauty: for it was perfect through my comeliness, which I had put upon thee, saith the Lord God.
Malachi 3:10 — 10 Bring ye all the tithes into the storehouse, that there may be meat in mine house, and prove me now herewith, saith the Lord of hosts, if I will not open you the windows of heaven, and pour you out a blessing, that there shall not be room enough to receive it.
Matthew 6:3-4 — 3 But when thou doest alms, let not thy left hand know what thy right hand doeth:
4 That thine alms may be in secret: and thy Father which seeth in secret himself shall reward thee openly.
Matthew 6:19-21 — 19 Lay not up for yourselves treasures upon earth, where moth and rust doth corrupt, and where thieves break through and steal:
20 But lay up for yourselves treasures in heaven, where neither moth nor rust doth corrupt, and where thieves do not break through nor steal:
21 For where your treasure is, there will your heart be also.
Luke 6:38 — 38 Give, and it shall be given unto you; good measure, pressed down, and shaken together, and running over, shall men give into your bosom. For with the same measure that ye mete withal it shall be measured to you again.
Acts 10:4 — 4 And when he looked on him, he was afraid, and said, What is it, Lord? And he said unto him, Thy prayers and thine alms are come up for a memorial before God.
Romans 13:4 — 4 For he is the minister of God to thee for good. But if thou do that which is evil, be afraid; for he beareth not the sword in vain: for he is the minister of God, a revenger to execute wrath upon him that doeth evil.
1 Corinthians 16:2 — 2 Upon the first day of the week let every one of you lay by him in store, as God hath prospered him, that there be no gatherings when I come.
Philippians 4:19 — 19 But my God shall supply all your need according to his riches in glory by Christ Jesus.
1 John 1:8-10 — 8 If we say that we have no sin, we deceive ourselves, and the truth is not in us.
9 If we confess our sins, he is faithful and just to forgive us our sins, and to cleanse us from all unrighteousness.
10 If we say that we have not sinned, we make him a liar, and his word is not in us.
3 John 2 — 2 Beloved, I wish above all things that thou mayest prosper and be in health, even as thy soul prospereth.