God Is With You—Hang On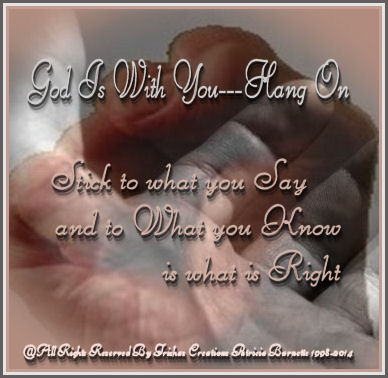 God Is With You—Hang On

So many people who are waiting for God to answer them and show them what to do, how to do, when to do they are longing for some direction in their lives, but do not really know where to look for it.
How to stop them from feeling a certain way, how to stop fearing, loosing out or giving up, etc. in their lives.
I have been there and I can tell you it's not easy, but I have learned to "HANG -ON!" Because I know that My Jesus, My God, is here with me and no matter what it is I want or need him to act now on, I know He will and is with me through what it is I am going through. I have learnt so many things from Joyce Meyers Bible, and I will tell you, I am still learning, but with the mercy and grace of My Lord Jesus Christ, I am hanging on!
I want so much to do for the Lord, and help other's to learn more and I have a fear inside of me, of not being able to have enough time to accomplish and finish all I need to do for Him.
But, I am doing my best to get it done, and that is this website, the one you are reading this on, full of helps which I have learned from, things which applied to my life as well as, Joyce Meyers and the verses and books in the bible which happened back then.
There is so much I have read and found which is so familiar to what I have went through in my life, and the best part is, God Has Been and Is still with me! READ THIS:Deuteronomy 31:6
We MUST Learn to do it Afraid! We Can Do It! Watch :
Moses, told the Israelite's, to be strong, and to be courageous, firm. Have you ever thought about what it means to be "firm" how you can stand on the word "Firm?"
Being "FIRM" is to: Stick to what you say and to what you know is what is right, and not letting anyone or anything talk you out of it.
Moses, had told Joshua that he was being strong, and he was being courageous and firm, because he was to lead the people into the land the Lord had given them. He assured, him that the Lord would never fail him or forsake him, that God would go with him to lead him to victory.
God makes that same promise to you and us today!
Everywhere we go we can know that God is with us and He is watching over us. He prepares the way for us. No matter what we are doing we can count on God being there with us, to help us through what we need to do. He loves us, He cares for us, even when we mess up in our lives, He never leaves us never.
It doesn't matter what we've done, or what our circumstances may be or any type of situation we are in, we can know that God has us covered. God is moving ahead and helping us, so just Hang On— Stand Firm– Don't Never Give Up!