Scripture Verses On The Poor / Selfishness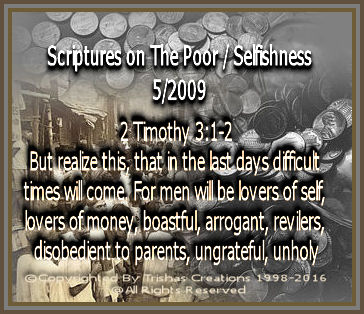 Scriptures on The Poor / Selfishness
5/2009
I get so upset when people say they won't help the poor, they refuse to give them any money or help them with groceries. People really need to stop and think about if it was them in need, they would want someone to help them.
Just this year 2015, I read a few articles about restaurants refusing to serve people whom help the poor and homeless… are you serious???? I quit going to those places and it is so appalling that businesses want to act this way…. All of them that act this way needs to close themselves down.
Because, GOD wants HIS people to help and feed the poor and if you don't then those whom are afraid to let go of a few bucks, to feed someone who has no food should be so ashamed of themselves. This includes and not limited to those whom take from their parents, and the elderly. I get really angered about this because this is WRONG, and God does not approve of this activity. Whether people realize it, this is a SIN.
The Bible tells us, to love each other and give to each other not take from one another. God loves each and every person in this world, and it even angers Him for people to do the poor and the elderly this way and those which have parents still living and they take their money or their belongings and just do away with it all and not take care of them.
These Verses I am going to list here, some I have written down since 5/2009 and those with the actual verses are ones which I have just looked up to give you a more extensive list of what God says about the poor and being selfish!
Scriptures on The Poor
(KJV)
Proverbs 19:17 — 17 He that hath pity upon the poor lendeth unto the Lord; and that which he hath given will he pay him again.
Proverbs 22:9 — 9 He that hath a bountiful eye shall be blessed; for he giveth of his bread to the poor.
Proverbs 28:27 — 27 He that giveth unto the poor shall not lack: but he that hideth his eyes shall have many a curse.
Mark 8:34 — 34 And when he had called the people unto him with his disciples also, he said unto them, Whosoever will come after me, let him deny himself, and take up his cross, and follow me.
Romans 12:10— 10 Be kindly affectioned one to another with brotherly love; in honour preferring one another;
Romans 15:2 — 2 Let every one of us please his neighbour for his good to edification.
1 Corinthians 9:19 — 19 For though I be free from all men, yet have I made myself servant unto all, that I might gain the more.
1 Corinthians 10:24,33 — 24 Let no man seek his own, but every man another's wealth.
33 Even as I please all men in all things, not seeking mine own profit, but the profit of many, that they may be saved.
2 Corinthians 5:15— 15 And that he died for all, that they which live should not henceforth live unto themselves, but unto him which died for them, and rose again.
2 Corinthians 6:2 — 2 (For he saith, I have heard thee in a time accepted, and in the day of salvation have I succoured thee: behold, now is the accepted time; behold, now is the day of salvation.)
2 Corinthians 9:6-10 — 6 But this I say, He which soweth sparingly shall reap also sparingly; and he which soweth bountifully shall reap also bountifully.
7 Every man according as he purposeth in his heart, so let him give; not grudgingly, or of necessity: for God loveth a cheerful giver.
8 And God is able to make all grace abound toward you; that ye, always having all sufficiency in all things, may abound to every good work:
9 (As it is written, He hath dispersed abroad; he hath given to the poor: his righteousness remaineth for ever.
10 Now he that ministereth seed to the sower both minister bread for your food, and multiply your seed sown, and increase the fruits of your righteousness;)
Galatians 6:2 — 2 Bear ye one another's burdens, and so fulfill the law of Christ.
Philippians 2:3-7 — 3 Let nothing be done through strife or vainglory; but in lowliness of mind let each esteem other better than themselves.
4 Look not every man on his own things, but every man also on the things of others.
5 Let this mind be in you, which was also in Christ Jesus:
6 Who, being in the form of God, thought it not robbery to be equal with God:
7 But made himself of no reputation, and took upon him the form of a servant, and was made in the likeness of men:
1 Timothy 5:6 — 6 But she that liveth in pleasure is dead while she liveth.
1 John 3:17-18 — 17 But whoso hath this world's good, and seeth his brother have need, and shutteth up his bowels of compassion from him, how dwelleth the love of God in him?
18 My little children, let us not love in word, neither in tongue; but in deed and in truth.
Deuteronomy 15:7 — 7 If there be among you a poor man of one of thy brethren within any of thy gates in thy land which the Lord thy God giveth thee, thou shalt not harden thine heart, nor shut thine hand from thy poor brother:
Ecclesiastics 11:1 — 1 Cast thy bread upon the waters: for thou shalt find it after many days.
2 Give a portion to seven, and also to eight; for thou knowest not what evil shall be upon the earth.
Matthew 10:42 — 42 And whosoever shall give to drink unto one of these little ones a cup of cold water only in the name of a disciple, verily I say unto you, he shall in no wise lose his reward.
Matthew 25:40 — 40 And the King shall answer and say unto them, Verily I say unto you, Inasmuch as ye have done it unto one of the least of these my brethren, ye have done it unto me.
Hebrews 6:10 — 10 For God is not unrighteous to forget your work and labour of love, which ye have shewed toward his name, in that ye have ministered to the saints, and do minister.
Isaiah 49:8 — 8 Thus saith the Lord, In an acceptable time have I heard thee, and in a day of salvation have I helped thee: and I will preserve thee, and give thee for a covenant of the people, to establish the earth, to cause to inherit the desolate heritages;
Isaiah 55:10 — 10  For as the rain cometh down, and the snow from heaven, and returneth not thither, but watereth the earth, and maketh it bring forth and bud, that it may give seed to the sower, and bread to the eater:
Hosea 10:12 — 12 Sow to yourselves in righteousness, reap in mercy; break up your fallow ground: for it is time to seek the Lord, till he come and rain righteousness upon you.
36 Bible Verses about Selfishness
Genesis 11:4 — They said, "Come, let us build for ourselves a city, and a tower whose top will reach into heaven, and let us make for ourselves a name, otherwise we will be scattered abroad over the face of the whole earth."
Genesis 13:10-11 — Lot lifted up his eyes and saw all the valley of the Jordan, that it was well watered everywhere–this was before the LORD destroyed Sodom and Gomorrah–like the garden of the LORD, like the land of Egypt as you go to Zoar. So Lot chose for himself all the valley of the Jordan, and Lot journeyed eastward. Thus they separated from each other.
Judges 17:6 — In those days there was no king in Israel; every man did what was right in his own eyes.
Judges 21:25 — In those days there was no king in Israel; everyone did what was right in his own eyes.
1 Kings 19:10 — He said, "I have been very zealous for the LORD, the God of hosts; for the sons of Israel have forsaken Your covenant, torn down Your altars and killed Your prophets with the sword And I alone am left; and they seek my life, to take it away."
Proverbs 18:1 — He who separates himself seeks his own desire, He quarrels against all sound wisdom.
Psalms 119:36 — Incline my heart to Your testimonies And not to dishonest gain.
2 Timothy 3:1-2 — But realize this, that in the last days difficult times will come. For men will be lovers of self, lovers of money, boastful, arrogant, revilers, disobedient to parents, ungrateful, unholy,
Jeremiah 45:5 — 'But you, are you seeking great things for yourself? Do not seek them; for behold, I am going to bring disaster on all flesh,' declares the LORD, 'but I will give your life to you as booty in all the places where you may go.'"
Ezekiel 28:2-5 — "Son of man, say to the leader of Tyre, 'Thus says the Lord GOD, "Because your heart is lifted up And you have said, 'I am a god, I sit in the seat of gods In the heart of the seas'; Yet you are a man and not God, Although you make your heart like the heart of God– Behold, you are wiser than Daniel; There is no secret that is a match for you. "By your wisdom and understanding You have acquired riches for yourself And have acquired gold and silver for your treasuries.
Ezekiel 34:8 — "As I live," declares the Lord GOD, "surely because My flock has become a prey, My flock has even become food for all the beasts of the field for lack of a shepherd, and My shepherds did not search for My flock, but rather the shepherds fed themselves and did not feed My flock;
Daniel 4:30 — "The king reflected and said, 'Is this not Babylon the great, which I myself have built as a royal residence by the might of my power and for the glory of my majesty?'
Matthew 22:39 — "The second is like it, 'YOU SHALL LOVE YOUR NEIGHBOR AS YOURSELF.'
Matthew 23:25 — "Woe to you, scribes and Pharisees, hypocrites! For you clean the outside of the cup and of the dish, but inside they are full of robbery and self-indulgence.
Mark 10:35 — James and John, the two sons of Zebedee, came up to Jesus, saying, "Teacher, we want You to do for us whatever we ask of You."
Luke 12:13-21 — Someone in the crowd said to Him, "Teacher, tell my brother to divide the family inheritance with me." But He said to him, "Man, who appointed Me a judge or arbitrator over you?" Then He said to them, "Beware, and be on your guard against every form of greed; for not even when one has an abundance does his life consist of his possessions."
John 13:34 — "A new commandment I give to you, that you love one another, even as I have loved you, that you also love one another.
Acts 5:3 — But Peter said, "Ananias, why has Satan filled your heart to lie to the Holy Spirit and to keep back some of the price of the land?
Romans 2:8 — but to those who are selfishly ambitious and do not obey the truth, but obey unrighteousness, wrath and indignation.
Romans 6:6 — knowing this, that our old self was crucified with Him, in order that our body of sin might be done away with, so that we would no longer be slaves to sin;
Romans 8:5 — For those who are according to the flesh set their minds on the things of the flesh, but those who are according to the Spirit, the things of the Spirit.
Romans 13:8-10 — Owe nothing to anyone except to love one another; for he who loves his neighbor has fulfilled the law. For this, "YOU SHALL NOT COMMIT ADULTERY, YOU SHALL NOT MURDER, YOU SHALL NOT STEAL, YOU SHALL NOT COVET," and if there is any other commandment, it is summed up in this saying, "YOU SHALL LOVE YOUR NEIGHBOR AS YOURSELF." Love does no wrong to a neighbor; therefore love is the fulfillment of the law.
Romans 15:3 — For even Christ did not please Himself; but as it is written, "THE REPROACHES OF THOSE WHO REPROACHED YOU FELL ON ME."
1 Corinthians 10:24 — Let no one seek his own good, but that of his neighbor.
2 Corinthians 5:15 — and He died for all, so that they who live might no longer live for themselves, but for Him who died and rose again on their behalf.
Galatians 5:19-20 — Now the deeds of the flesh are evident, which are: immorality, impurity, sensuality, idolatry, sorcery, enmities, strife, jealousy, outbursts of anger, disputes, dissensions, factions,
Ephesians 2:3 — Among them we too all formerly lived in the lusts of our flesh, indulging the desires of the flesh and of the mind, and were by nature children of wrath, even as the rest.
Ephesians 4:22 — that, in reference to your former manner of life, you lay aside the old self, which is being corrupted in accordance with the lusts of deceit,
Philippians 2:4-8 — do not merely look out for your own personal interests, but also for the interests of others. Have this attitude in yourselves which was also in Christ Jesus, who, although He existed in the form of God, did not regard equality with God a thing to be grasped,
Philippians 1:17 — the former proclaim Christ out of selfish ambition rather than from pure motives, thinking to cause me distress in my imprisonment.
Philippians 2:3 — Do nothing from selfishness or empty conceit, but with humility of mind regard one another as more important than yourselves;
Job 14:22 — But his flesh upon him shall have pain, and his soul within him shall mourn.
Colossians 3:9 — Do not lie to one another, since you laid aside the old self with its evil practices,
James 3:14-16 — But if you have bitter jealousy and selfish ambition in your heart, do not be arrogant and so lie against the truth. This wisdom is not that which comes down from above, but is earthly, natural, demonic. For where jealousy and selfish ambition exist, there is disorder and every evil thing.
1 Peter 4:10 — As every man hath received the gift, even so minister the same one to another, as good stewards of the manifold grace of God.