Decreeing and Declaring 1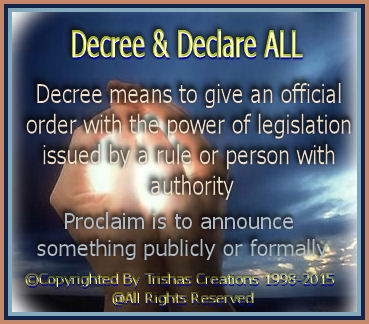 Decreeing God's Word
Job 22:28 Thou shalt also decree a thing, and it shall be established unto thee: and the light shall shine upon thy ways. We have often heard and read this passage of scripture, but have you meditated on the meaning of this powerful word.
It is time to decree, proclaim and declare the divine will He has already completed at the Cross. There is so much power in God's Word, if we just know how to decree it and claim it!
God's word is NOT VOID, so many people actually believe it isn't the truth and so they don't want to pick it up to find out just what is in His word for us, to have a better way of life! So many ignore God's word and teachings, is it because they refuse to live the way it was meant for them to live, or maybe it's because their parents never taken the time to teach them, or maybe it's due to the fact that they just don't like to read?
In any case, that is really stupid, and not a good excuse. God gave us ways to trust and believe His word, it's the truth, and God had everything even our lives planned out and how we were going to be and how we were going to do things in our lives.
God's word we are to know how to claim, declare and decree His word on our lives, no matter how we were raised or by whom, He still wants us to trust in Him and believe in Him wholeheartedly. In The Bible, it plainly shows us, how to wake up from this evil world and accept Him and His love and Mercy and Grace, and to know how we can escape the evilness around us, or that is holing us back.
I found some information which I hope will help you better understand how we can decree and declare God's word on Our Lives… there will be a few pages of this and a few prayers to help you along your way!
Job 22:28 – Thou shalt also decree a thing, and it shall be established unto thee: and the light shall shine upon thy ways.
Proverbs 18: 20-22 20 A man's belly shall be satisfied with the fruit of his mouth; [and] with the increase of his lips shall he be filled.
21 Death and life [are] in the power of the tongue: and they that love it shall eat the fruit thereof.
22 [Whoso] findeth a wife findeth a good [thing], and obtaineth favour of the LORD.
The scriptures are the heart and soul of decreeing the Word of God.
Decree means to give an official order with the power of legislation issued by a rule or person with authority.
Declare is to begin a fierce campaign to get rid of something or start fighting in earnest for or against something.
Divine Will is to make an official order, pronouncement, or legal ruling to effect something.
Proclaim is to announce something publicly or formally.
 Page 1  Page 2  Page 3  Page 4  Page 5 Page 6 Page 7  Page 8  Page 9   Page 10  Page 11 Page 12  Page 13  Page 14