REAL TESTIMONIES -3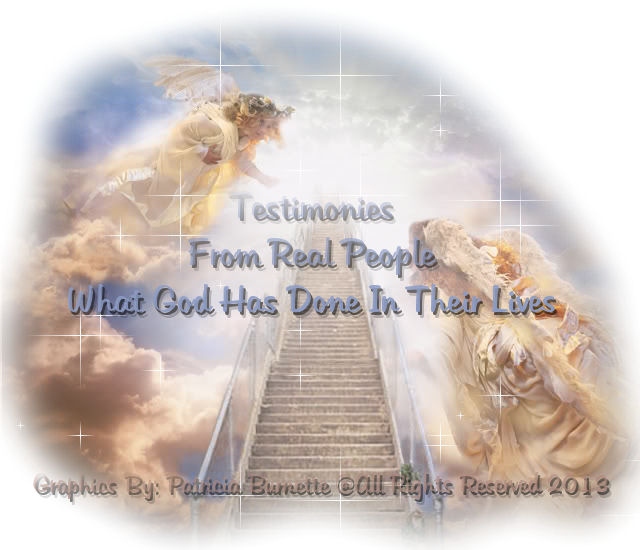 These are real "Testimonies" from Real People who have experienced "God's Mercy and Grace" in their lives. These here are from my life in the 1990's and in 1984.
I have asked their permission to post their "real life testimonies" in hopes that they may help other's who may be going through the same things in their lives.
If, you have a Testimony which you would like to share please let me know. You can connect with me on FB/ Heavens-Beauty & Wisdom of Jesus! Thank You and May God Richly Bless You!  (PS I am still re-editing code ( I am now learning Word Press so some may look distorted a little but they are getting fixed 🙂 )
GOD SAVED US FROM A HUGE DISASTER…..WITH CAR!
Patricia From: Montgomery Al
We moved here to; Mississippi almost,2 1/2 yrs ago; and we were living in a "town" called: Magee, Ms. , we have a "Mazda Protégé" and well, we kept hearing this "knocking & popping" in our "front-end"; and, we had our "brakes -checked" and we had the whole-car; checked-out; from one end to the other….never could find; anything, that would be making this noise.
As, time went on; we kept hearing it….so, we had someone else; check it-out; and even had mechanics, ride with us; so, they could hear what we were talking about.
Well, they checked it-out; put the car on the rack, never found-nothing; so, we have been all-over "Alabama" visiting and several times, and that's about 255 -300 miles, going and 255-300 miles coming back each time; about 2 – 3 times a year.
All, that time I was; carrying friends & family & children; places, and traveling, and we didn't even know; because everyone that had checked the car; said; there was nothing wrong with it…GOD, SAVED US!
So, it kept on, making this "popping noise" every time; we turned….so, if, got real loud; one-time, so, then we left the car; where my husband works; and, we found-out; that the boots, and the c-v joint under the left-side, was gone-out, and has been out; for sometime. Well, we was here; for two-years; not knowing anything about this, and we have driven to & fro from; "Alabama" all around different-parts of; "Mississippi" and everywhere; with this "Problem" and, my "husband's" boss & mechanics; just don't see how, the "front-end" had not "fallen-out" from up-under us.
Well, we know & Believe; that "OUR LORD" has done something "IMPOSSIBLE" but, done the "POSSIBLE" and held, our "FRONT-END" together for 2 YEARS!
"DO YOU WANT TO KNOW….JESUS?"
IF, YOU DO….YOU CAN KNOW HIM; RIGHT NOW…BY, REPEATING THE PRAYER BELOW; PLEASE, DON'T WAIT FOR SOMETHING "TERRIBLE OR BAD" HAPPENS…BEFORE YOU WANT TO GET TO KNOW HIM!"
Dear Heavenly Father, I come with a heavy heart to you, I know I haven't lived the way I should've been, I know you came to this earth for me and to die for me shed your precious blood for me. I admit I am a sinner, I am very sorry for all my sins, Jesus please come into my heart and remove the sins of my being. Father Jesus, I ask that you cover me with your precious blood and cleanse me from head to toe, and come into my heart and dine with me, sit with me, talk to me, I know that you are the only begotten son for God and I admit to you and others that You Are my Lord and Savior and Thank You for coming in to my heart and releasing me from all my sins. In Jesus Name Amen Amen!
If, you prayed that prayer or even said one of your own, will you let us know that you accepted Jesus as your Personal Savior so we can rejoice with you and pray for you!
May God Bless You and Keep You, and send us your testimony so we can add it here!
Page 1 Page 2 Page 3 Page 4  Page 5 Page 6 Page 7 Page 8 Page 9