Are You Decreeing & Declaring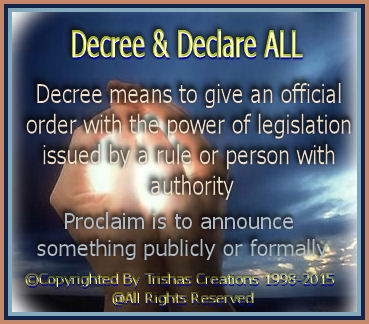 Sample Decree & Declare Requests
Here Is Examples of How To Decree In Prayer if you are unsure, how to word your Petition!
Really, after you see how to word it, or say it, there is no need to add more than one. But really it all comes from your heart, in what you want to "Decree & Declare" God to do in your life! You can Agree with these Decree's and set more Power to them as we will yours as well. If, you have some which You want listed I will be more than happy to add them here!
Job 22:28 Thou shalt also decree a thing, and it shall be established unto thee: and the light shall shine upon thy ways. We have often heard and read this passage of scripture, but have you meditated on the meaning of this powerful word.
A Few Websites I have found that has "Decrees & Declares" and Prayers and Ideas of Praying and Decreeing and Declaring God's Word On Your Life!
 Page 1  Page 2  Page 3  Page 4  Page 5 Page 6 Page 7  Page 8  Page 9   Page 10  Page 11 Page 12  Page 13  Page 14