Lift Our Hearts –– Bended Knees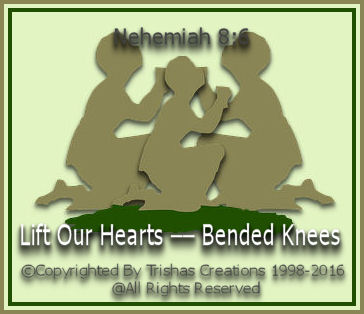 Lift Our Hearts –– Bended Knees
Nehemiah 8:6
This is an awesome way to show the devil and give him a black eye everytime. This, really is an awesome way to show him who's boss, and to ward off the devil of anything, and he will know you mean business.
How you worship God and the positive as the Israelite's in Nehemiah 8:6. We all need to bend our knees and raise our hands towards the heavens, towards God the Father. This is a true sign of reverence and humility.
It's an outward representation of our inner hearts attitudes. Good thing about this is the devil cannot see inside our hearts, but he surely can see our actions and hear our words which we say and do.
The devil can see the outward manifestations of our lifted hands towards the heavens and towards our Father God, and he knows what's going on when we bow down.
It makes him squirm and makes him afraid, best thing is he cannot deceive and control true worship.
Without a true repentant heart of worship of a right heart, is completely useless. Our hearts attitudes establishes things in the spiritual realm, our actions and words establish things in the natural realm.