50 Kinds of Hearts In The Bible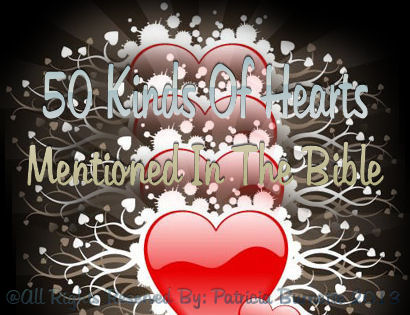 "50 Kinds of Hearts In The Bible"
Genesis 20:6
You would be amazed, at all you can find in the Bible, if you take the time to research and read!
I am still surprised at all we can learn from the Bible, there is so much that I have missed all these years, and to find out that God had our lives, straightened out even before it began, isn't that amazing!
I have listed "50 Kinds of Hearts In The Bible" with their Scriptures and the Books, which you can go by as a reference! You can print this out to, if you like to. Give it people, friends, family!
"50 Kinds of Hearts In The Bible"
1. Broken Heart ——— Psalms 34:18, 51:17, 69:20
2. Contrite Heart ——— Psalms 51:17
3. Grieved ——— Genesis 6:6, Psalms 73:21
4. Willing ——— Exodus 25:2, 35:5,29
5. Discouraged Heart ——— Numbers 32:7-9, Deuteronomy 1:28
6. Obstinate ——— Deuteronomy 2:30
7. Proud Heart ——— Deuteronomy 8:14, Psalms 101:5, Ezekiel 28:5,17
8. Wicked Heart ——— Deuteronomy 15:9, Proverbs 6:14,18, Jeremiah 4:14-18
9. Trembling Heart ——— Deuteronomy 28:65, Isaiah 66:2
10.Perfect Heart ——— 1 Kings 8:61, 1 Chronicles 29:9
11.Double Heart ——— 1 Chronicles 12:33, James 4:8
12.Tender Heart ——— 2 Kings 22:19, 2 Chronicles 34:27, Ephesians 4:32
13.Soft Heart ——— 1 Samuel 24:5, Job 23:16
14.Pure Heart ——— Psalms 24:4, Matthew 5:8, 1 Peter 1:22
15.Upright Heart ——— Psalms 32:11, 36:10, 64:10, 97:11
16.Clean Heart ——— Psalms 51:10, 73:1, Proverbs 20:9
17.Fixed heart ——— Psalms 57:7, 112:7
18.Subtle Heart ——— Proverbs 7:10
19.Froward or Perverse ——— Proverbs 11:20,12:8
20.Wise Heart ——— Exodus 28:3,35:25, Proverbs 10:8, 11:29
21.Merry Heart ——— 2 Chronicles 7:10, Proverbs 15:13-15, 17:22
22.Sorrowful Heart ——— Proverbs 14:13, 15:13
23.Haughty Heart ——— Proverbs 18:12, Jeremiah 48:29
24.Fretting Heart ——— Proverbs 19:3, 24:19, Psalms 37:1-8
25.Heavy Heart ——— Proverbs 25:20, 31:6
26.Unsearchable Heart ——— Proverbs 25:3, Psalms 64:6
27. Despiteful Heart ——— Ezekiel 25:15, Romans 1:30
28.Bitter Heart ——— Ezekiel 27:31, Hebrews 12:15, James 3:14
29.New Heart ——— Ezekiel 18:31, 36:26, 2 Corinthians 5:17-18
30. Stoney Heart ——— Ezekiel 11:19, 36:26
31.Flesh Heart ——— Ezekiel 11:19, 36:26
32.Uncircumcised Heart ——— Ezekiel 44:7, Jeremiah 9:26, Acts 7:51
33.Meek and Lowly ——— Matthew 11:29
34.Honest and Good ——— Luke 8:15
35.Overcharged heart——— Luke 21:34
36.Troubled Heart ——— John 14:1-3, 27
37.Single Heart ——— Ephesians 6:5, Acts 2:46
38.Foolish and Darkened ——— Romans 1:21
39.Impenitent Heart ——— Romans 1:21, 2:5
40.Circumcised ——— Romans 2:29, Philippians 3:3
41.Evil Heart ——— Jeremiah 3:17,7:24,11:8,16:12, Hebrews 3:12
42.True Heart ——— Hebrews 10:22, Matthew 22:16
43.Melted Heart ——— Joshua 2:11, 5:1, 7:5, 14:8
44.Deceitful Heart ——— Jeremiah 14:14, 17:9, Mark 7:21-23
45.Hard Heart ——— Deuteronomy 15:17, Psalms 95:8, Hebrews 3:8
46.Whorish Heart ——— Ezekiel 6:9, Hosea 4:12, 9:1
47.Mischievous Heart ——— Proverbs 28:14, 22:15, Romans 1:21
48.Diabolical Heart ——— John 13:2, Acts 5:3
49.Covetous Heart ——— Jeremiah 22:17, 2 Peter
50.Compassionate Heart ——— Psalms 55:4, Jeremiah 4:19