18 Commands Concerning the Heart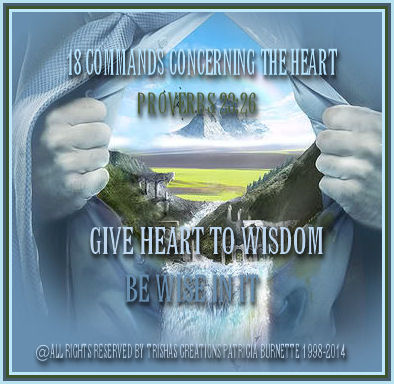 18 Commands Concerning the Heart
Proverbs 23
We all know that we are to have a good heart, a loving heart. We are to show God's love, the love that He has, He gives us and we are to show His love to everyone, and practice it with those around us.
But, we have to have a loving heart before we can show God's love. We have to renew it, like we renew our minds by reading God's word. I see all the time especially on "Facebook" how people say they hate this person, they hate that person…what they are not realizing is; when they say "I hate a person" they are committing murder in their hearts. How can we show Jesus' Love / God's Love if we are hating someone??
No person can have "Jesus in their hearts" if they are hating someone. Hating leads to "Hell and fire and brimstone" you CANNOT LOVE GOD, if you are hating someone."
I have listed 18 Commands Concerning the Heart, and there are scriptures which you can look up as well.

18 Commands Concerning the Heart
Proverbs 23
| | | |
| --- | --- | --- |
| 1. Apply the Heart to Understanding |   | Proverbs 2:2, 22:17, 23:12 |
| 2. Open the Heart to Wisdom |   | |
| 3. Keep the Commandments |   | |
| 4. Write the Commandments on It |   | |
| 5. Trust In The Lord With It |   | |
| 6. Keep It With All Diligence |   | |
| 7. Bind Commandments On It |   | |
| 8. Do Not Lust in It |   | |
| 9.  Do Not Be Inclined Upon It |   | |
| 10. Have An Understanding Heart |   | |
| 11. Be Wise in It |   | Proverbs 11:29,16:21,12:23 |
| 12. Retain Wisdom In It |   | |
| 13. Be Merry In Heart |   | |
| 14. Study Answers With It |   | |
| 15. Increase Its Knowledge |   | |
| 16. Apply it to Instruction |   | |
| 17. Do Not Use It To Envy Sinners |   | |
| 18. Give Heart To Wisdom |   | |