20 things About Confessed Sins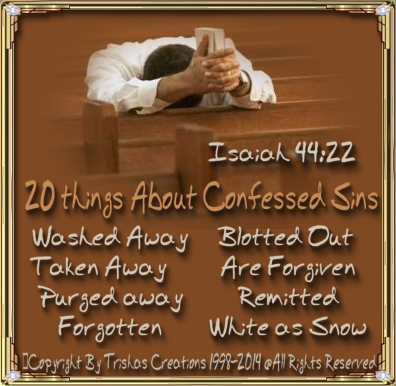 20 things About Confessed Sins
Isaiah 44:22
I was told a few months ago, by my sister that our sins which we commit are remembered, were by God.
I know that in God's word, that He said, when we repent of our sins, they are remembered no more. We once we ask to be forgiven, we are not to go back and do them again, we are to stop and flee from them. I have included 20 Things About Confessed Sins, please print or write them down, so no one can try to confuse or mislead you!
I am not saying my sister tried to confuse me or mislead me, because she knows I know what the bible says, but she is Catholic, I am saying bible says different than what she was telling me, and she was brought up in the same home as I was.
20 things About Confessed Sins