20 Things UnConfessed Sins Do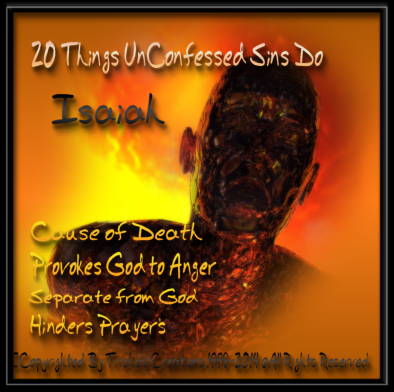 20 Things UnConfessed Sins Do
Isaiah
Many people think just because they believe in Jesus Christ means that they automatically get into Heaven.
This is not the way it goes, in order to get to Heaven and be with Jesus and our Loved ones, we have to have the right kind of heart.
Our Hearts cannot be full of envy, hate, malice, rudeness, cursing, lying, backstabbing, bitterness etc.
Our hearts are to be full of Love and Compassion, we have to have the agape type of Love, we cannot focus on ourselves and our desires, we have to have compassion for other's. We also, have to confess our sins everyday, not just when we want to or think about it. Jesus doesn't care how many times a day, because if He would come back at the time, you didn't confess your sins, what do you think would happen, especially if your heart is full of hate and malice for someone.
Now, that we have taken a look at the "20 Things About Confessed Sins" we are going to now take a look at "20 Things UnConfessed Sins Do" there is more about many topics about the devil and sins, and more on my website, "Heavens-Beauty.info" if you would like to go and check them out. You can go to the Sitemap which the link is at the bottom of the page.  Please like us on Facebook 🙂
Please when you read these you can look them up in your Bible, to verify the scriptures.
20 Things UnConfessed Sins Do