Availability –– With The Ability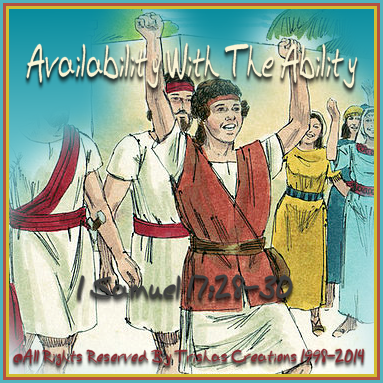 Availability –– With The Ability
1 Samuel 17:28-30

Have you ever been rejected, and badly treated by others? Have you ever been pushed to the side, pushed away because of either you are too young, or you was made to feel like you was just not good enough?
I know I have been done this way, but if we believe what other's do to us or call us, then that will be what we end up.
If, we look at 1 Samuel 17:28-30, we can see that David believed with God's help he could slay Goliath the giant, but with David's brother Eliab he accused him of having presumptions and an evil heart. Eliab's jealous attitude towards David, he tried to make David feel small and worthless.
1 Samuel 17:28 (KJV)
28 And Eliab his eldest brother heard when he spake unto the men; and Eliab's anger was kindled against David, and he said, Why camest thou down hither? and with whom hast thou left those few sheep in the wilderness? I know thy pride, and the naughtiness of thine heart; for thou art come down that thou mightiest see the battle.
David, was young but ……. He was wise, his response to Eliab was a main key to his future, "David just turned away." He didn't act in an evil way, he simply walked away. 1 Samuel 17:30
Just like David's brother they wouldn't include him in anything –– they were all jealous of him. David's faith was great, he didn't care what any of his brother's thought of him. He was rejected, that's what he felt.
When we have faith we take that step to faith and we continue to do something for God to help others who are hurting and satan attacks, regardless of what other's think. God, works through us, but satan works through those we love to make us feel useless, worthless, and unaccepted, and which makes us feel rejected.
We all need to stand firm against the attacks of the devil and continue to keep our eyes on God and wait for His direction, God fills our hearts with faith, love and compassion, which enables us to believe He can use us, but when satan sticks his big fat nose in and comes against us with fears and mostly fears about ourselves and what we believe or even in our abilities.
Many times God choose people who are weaker than others, those which have been rejected and have been pushed away and excluded. He selects people who have felt this way and wants certain one's where the society would reject in order to "Show Himself Strong".
He choose purposely, those that would –– be called "weak and foolish", so no one can take the credit that is due to Him and alone to Him. 1 Corinthians 1:26-29
If, you have been done like David, just turn away from it all. Always forgive your enemies, and never let offenses of others fill your heart. Never give attention to the devil, he don't deserve any attention at all. Always Keep Your Eyes on God and follow His directions!
God can and will use you to great and mighty and important things.
Remember, God isn't looking for someone with just abilities, He's looking for those with the "AVAILABILITY".
God knows we are not perfect, He isn't looking for those with perfect attitudes, or attributes, but those with perfects hearts towards Him.
Keep you hearts pure , always refusing to allow hatred and strife, wickedness, bitterness, resentments, offenses, unforgivness to enter your heart, or allow influences from other's to mistreat other's because it all will come back on you to and if you allow these things to enter, you need to ask for forgiveness, because if you allow these things GOD WON'T USE YOU!
You must always believe what God says, what and who He is, and believe what GOD says about YOU!
Never allow the devil to make you go by your feelings, or what hurtful things he tries to make you believe or allow other's to do to hurt you , never let him make you think bad about yourself, because you are a GOOD LOVING PERSON, because the devil is a down right liar and a thief.
God says, YOU are WORTH something, YOU are SPECIAL and you are full of LOVE, you belong to Him, God LOVES YOU and HE WILL walk with you everywhere you go, just Let Him!
Just tell God "HERE I AM, USE ME, WALK WITH ME, GUIDE ME I'M YOUR'S!"