The Blood of the Covenant 1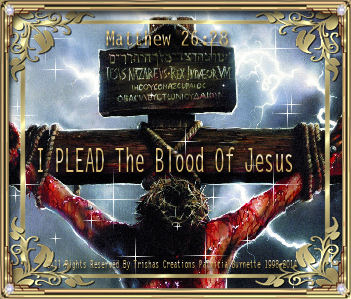 The Blood of the Covenant
The Blood Of Jesus….Blood of the covenant
Exodus 24:8 & Leviticus 17:11
Covenant : The Blood of the covenant, was sealed with Israel through the sprinkling of the blood, indicating that among sacrifices were necessary to maintain your relationship to God.
Now read this, this will help you better understand how this came about.
The Blood signified cleansing and forgiveness made possible by means of a life sacrificed to God.
And such sacrifices opened the way to reconciliation with God and the people 's obedience that from faith. Romans 1:5 & Hebrews 9:19-20
The Ultimate significance of "The Blood of the Covenant" was realized when Christ Jesus shed His blood on the Cross and established the "New Covenant" His sacrificial death cleanses believers from sin as they seek to walk in the way of holiness. Mark 14:24 & Hebrews 9:11-18& 1 John 1:7,2:2
Obedience and the blood must always be joined together to validate God's acceptance of His people and their consecration to Him. Only after the people pledged to Obey God through the atoning blood could they participate in the covenant blessing.
1 John 1:7 But if we are living in the light of God's presence, just as Christ is, then we have fellowship with each other, and the blood of Jesus, his Son, cleanses us from every sin.
In a similar vein the apostles Peter states that we are chosen. "For Obedience to Christ" a sprinkling by His Blood. 1 Peter 1:2
Isaiah 52:15
13 See, my servant will prosper; he will be highly exalted.
14 Many were amazed when they saw him —beaten and bloodied, so disfigured one would scarcely know he was a person.
15 And he will again startle many nations. Kings will stand speechless in his presence. For they will see what they had not previously been told about; they will understand what they had not heard about.
Hebrews 10:16
16 "This is the new covenant I will make
with my people on that day, says the Lord:
I will put my laws in their hearts
so they will understand them,
and I will write them on their minds
so they will obey them."
17 Then he adds,
"I will never again remember
their sins and lawless deeds."
19 And so, dear brothers and sisters, we can boldly enter heaven's Most Holy Place because of the blood of Jesus.
20 This is the new, life-giving way that Christ has opened up for us through the sacred curtain, by means of his death for us.
21 And since we have a great High Priest who rules over God's people,
22 let us go right into the presence of God, with true hearts fully trusting him. For our evil consciences have been sprinkled with Christ's blood to make us clean, and our bodies have been washed with pure water.
Even, the ones that has "Crucified Him ; shall see Him…when He Returns to get his church…..will you DENY the "BLOOD OF JESUS?"
Will, you be "LEFT" when Christ Return's?

Will, you "DENY HIM" ….or will you "CLAIM HIM"?

Will, you take the "MARK OF THE BEAST" if, you get "LEFT BEHIND" and, take the "666" that will be placed on your "Forehead or your hand…….and, be left for "HELL ….and Burn For all eternity?"
GOD LOVES YOU….HE WANTS YOU WITH HIM….YOU DENY HIM; HE WILL DENY YOU…My Dearest FRIEND!
GALATIANS 2: 20
I HAVE BEEN CRUCIFIED WITH CHRIST; IT IS NO LONGER I WHO LIVE, BUT CHRIST LIVES IN ME; AND THE LIFE WHICH I NOW LIVE IN THE FLESH I LIVE BY FAITH IN THE SON OF GOD, WHO LOVED ME AND GAVE HIMSELF FOR ME .
GALATIANS 5:19 – 21
NOW THE WORKS OF THE FLESH ARE EVIDENT, WHICH ARE: ADULTERY, FORNICATION, UNCLEANNESS, LEWDNESS, 20 IDOLATRY, SORCERY, HATRED, CONTENTIONS, JEALOUSIES, OUTBURSTS OF WRATH, SELFISH AMBITIONS, DISSENSIONS, HERESIES,
21 ENVY, MURDERS, DRUNKENNESS, REVELRIES, AND THE LIKE; OF WHICH I TELL YOU BEFOREHAND, JUST AS I ALSO TOLD YOU IN TIME PAST, THAT THOSE WHO PRACTICE SUCH THINGS WILL NOT INHERIT THE KINGDOM OF GOD.
GALATIANS 6:1
BRETHREN, IF A MAN IS OVERTAKEN IN ANY TRESPASS, YOU WHO ARE SPIRITUAL RESTORE SUCH A ONE IN A SPIRIT OF GENTLENESS, CONSIDERING YOURSELF LEST YOU ALSO BE TEMPTED.