Moving Mountains In Your Life 2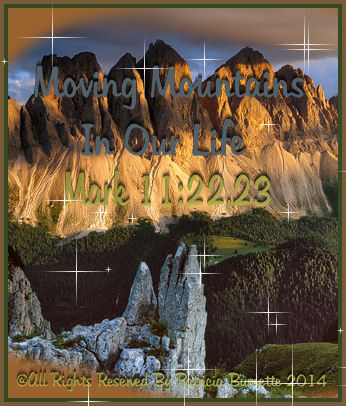 Moving Mountains In Your Life 2
Let's See the Elements of Prayer
Here I will show you some elements of "Mountain Moving Prayers" that with "FAITH" you can move the highest mountain in your life, as along and your faith is as small as a mustard seed, and you do NOT doubt and you believe in your heart, that what you will be asking to be removed, it will happen!
We can move these high hideous mountains which stand in our way of being filled with joy and peace in the life that God meant for us to have! Mountains of despair and hurt, and heartbreaks and financial problems, health problems, family problems, marriage problems, anything which if hindering you from living a life that God meant for you to have, that mountain can be Moved by the Power and the Mention of Jesus' Name with faith and belief!
Hebrews is filled with so many verses on "Faith" so many examples of faith being used, and talks about using our faith.
When we want to remove mountains in our lives which maybe hindering us or maybe in our family members, our friends, co-workers, bosses, country as well, it doesn't matter of who the people are that you love and care about in your life, the mountains can be moved. We need to read the verses, and even if you want to type them up or print them out that is a good idea, and practice using them, we all need to to help remind us, of God's promise that as along as we believe and have that "grain of mustard seed" we can move those mountains in our lives.
Faith without works is dead…… just think about it for a few minutes.
If, you didn't have any faith, can you imagine what life would be, in any circumstances we face. Without Faith, and Trust in God we have nothing, we are nothing.
In another words, without "FAITH" and using our "FAITH" the works of what our faith could bring is dead to us, because we have no works to apply to faith, we are to have.
But, with even a tad bit of faith just as Jesus said, "as small as a grain of mustard seed" so many things can happen in our lives, by moving these huge mountains out of our lives, and greater things can happen that you never could imagine. We just need to exercise our "FAITH" the bigger our faith the greater our faith becomes and we can be able to have peace and joy again in our lives.
We just have to keep believing and never doubt that what we ask to be removed will remove itself and keep praying and holding to God and His promises and it will happen.
So, I am going to show you now what the elements are again and then I will list some prayers, which you can use or pray your own, they are only to help you see how you can pray them and how to apply them to your mountain moving prayer.
Elements of Mountain Moving Prayers
Do NOT DOUBT

BELIEVE

HAVE FAITH

HAVE COURAGE

TRUST GOD

SEEK THE KINGDOM OF GOD

PRAY WITH FAITH
Elements Which Causes DOUBT
UNBELIEF

DOUBT

WEAKNESS

MISTRUST

YOUR ATTITUDE

MIND SET

LACK OF FAITH
Things Which We Know About God's Promises
His LOVE for Us

His Righteousness

His Promises He Made Us

His Mercy and His Grace

His Security In Knowing He Answers Prayers

His Trust Worthiness

His Divine Power and Intervention

His Works Is Powerful, Gracious

His Divine Desire for Us All To Prosper as Long as We Believe In Him

His Faithfulness

He Can Move Anything In and Out of Our Lives
The Main Keys To Mountain Moving Prayers
Your Trust In God

Believing In Him

Trusting In All He Does and Will Do for those who Believe and Trust In Him

Knowing He has Mercy and Grace for You

If Ye Have FAITH
If, we look at the verses again and re-read them they are again reminding us, to trust, believe, hope, and not doubt in our hearts and to apply our what, "OUR FAITH."
When we apply our faith, working moving, undeniable strength-building Promises of God, through our Faith in Him and all that He is, great things start to happen in our lives, things which we cannot see with our naked eyes, but we know with Faith GOD will work those miracles in our lives, as long as we have, what — YES, FAITH!
We have to again have, what —- YES, TRUST, BELIEF, HOPE, RELY IN, LOVE HIM, FAITH! With God ALL THINGS ARE POSSIBLE, for THOSE THAT BELIEVE AND TRUST IN HIM!
God is, filled with Love and mercy and grace for us, and none of us are worth anything without God in our lives, without Him in our lives we are nothing, we have nothing, we amount to the dust on the ground, but with Him in Our Lives, WE ARE EVERYTHING IN HIM!
Question: "Do you have enough "FAITH" to Move your mountain which stand in your way, that is causing your hindrances and grief?"
If, you answered, Yes, then you can "MOVE YOUR MOUNTAINS!"
I have given some example prayers, on the following pages which you can use, if you like to, but if you want to write your own that is Great, you can always fill in your name or a loved ones name in place of the "we" or "I" you may see in the prayers that's already given.
May God Bless You & Keep You and Your Family Safe!

Page 1 Page 2 Page 3 Page 4 Page 5  Page 6 Page 7  Page 8