Scripture Verses On Double Mindedness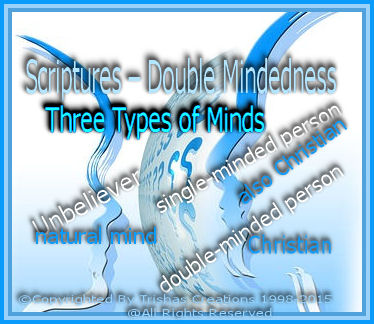 Scriptures – Double Mindedness
5/21/2009
These Scriptures will have some of a little of reference verses, also. A double-minded believer is someone who is constantly living in a state of compromise. Half of you lives for God, while the other half lives for your bad habit. Hence, you are "double-minded."
"What does it mean to be double-minded (James 1:8; 4:8)?"
Answer: The term double-minded comes from the Greek word dipsuchos, meaning "a person with two minds or souls." It's interesting that this word appears only in the book of James (James 1:8; 4:8).
Bible scholars conclude that James might have coined this word. To grasp the full meaning of this word, it is best to understand how it is used within its context.Single-mindedness vs. Double-mindedness
Three Types of Minds
Scripture speaks about three types of minds: the natural mind (an unbeliever), a double-minded person (a Christian) and a single-minded person (also a Christian).
Double Mindedness

Deuteronomy 1:39 Moreover your little ones, which ye said should be a prey, and your children, which in that day had no knowledge between good and evil, they shall go in thither, and unto them will I give it, and they shall possess it.

Deuteronomy 18:15 The Lord thy God will raise up unto thee a Prophet from the midst of thee, of thy brethren, like unto me; unto him ye shall hearken; 

Deuteronomy 18:18 I will raise them up a Prophet from among their brethren, like unto thee, and will put my words in his mouth; and he shall speak unto them all that I shall command him.

1 Kings 18:21 And Elijah came unto all the people, and said, How long halt ye between two opinions? if the Lord be God, follow him: but if Baal, then follow him. And the people answered him not a word.

Acts 7:37-39  This is that Moses, which said unto the children of Israel, A prophet shall the Lord your God raise up unto you of your brethren, like unto me; him shall ye hear.

38 This is he, that was in the church in the wilderness with the angel which spake to him in the mount Sina, and with our fathers: who received the lively oracles to give unto us:

39 To whom our fathers would not obey, but thrust him from them, and in their hearts turned back again into Egypt

Acts 28:26-29 26 Saying, Go unto this people, and say, Hearing ye shall hear, and shall not understand; and seeing ye shall see, and not perceive:

27 For the heart of this people is waxed gross, and their ears are dull of hearing, and their eyes have they closed; lest they should see with their eyes, and hear with their ears, and understand with their heart, and should be converted, and I should heal them.

28 Be it known therefore unto you, that the salvation of God is sent unto the Gentiles, and that they will hear it.

29 And when he had said these words, the Jews departed, and had great reasoning among themselves.

James 1:8  A double minded man is unstable in all his ways.