Touched By God's Finger 1999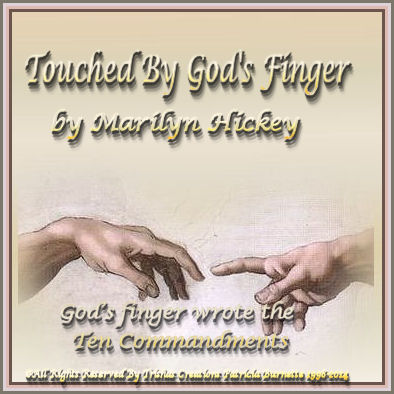 Touched By God's Finger 1999
by Marilyn Hickey
On the ceiling of the Sistine Chapel, Michelangelo painted a famous mural of God creating man. In it, you see God and man reaching out to touch each other. You can almost see the dramatic, life- changing transfiguration that takes place when God touches His finger to us…and we reach to touch Him back. Just one touch is all you need to transform the toughest hearts and solve the most stressful situations.
EFFECTS OF GOD'S TOUCH
The Gospel of John tells about a woman who was caught in adultery. Some men brought her to Jesus to try and trap Him on a technicality of the Law of Moses. While the men crowded around Jesus and the woman, Jesus stooped down and wrote in the dirt with His finger. When He finished, He said, "He that is without sin cast the first stone." All the accusers walked away. He asked the woman, "Where are your accusers?"
She answered so beautifully, "I have none, Lord." She called Him "Lord" because she believed He was Lord. His finger had touched her.
When God's finger touches you, it will deliver you from sin. If you reach up toward Him, He will touch you. It only takes one touch from God to give a man or a woman a divine purpose. His touch will totally turn you around and change you.
On Mount Sinai, God's finger wrote the Ten Commandments on two tablets of stone allowing the Israelites a closer communion and fellowship with God, and He with them. However, He never intended for His Word to remain just letters on stone. God's Word should be written on our hearts.
The finger of God is apparent in the New Testament, too. Mark 7:32-35 records an event that clearly illustrates His power.
And they bring unto him one that was deaf, and had an impediment in his speech; and they beseech him to put his hand upon him. And he took him aside . . . and put his fingers into his ears, . . . And straightway his ears were opened, and the string of his tongue was loosed, and he spake plain.
The finger of God healed that man! You may say, I really need a miracle! He will transform your situation, if you will reach out to Him. It just takes one touch!
LET GOD TOUCH YOU
Are you doubting God's love for you? Do you know that God wants to bless you? The apostle Thomas had doubts, too. John 20:19-29, tells what happened to Thomas.
After Jesus' death and resurrection, His disciples were locked in a room, afraid that they'd be crucified, too. Jesus appeared in their midst saying, "Peace be unto you." Thomas happened to be missing.
After Jesus' appearance, the others went to Thomas and cried, "Oh, Thomas, you should have been with us! We've seen the risen Christ!" Thomas, however, responded with doubt. "Except I shall see in his hands the print of the nails, and put my finger into the print of the nails, and thrust my hand into his side, I will not believe."
Thomas was present the next time Jesus appeared, (John 20:27). Jesus entered the room and looked right at Thomas. Why? God wanted to touch the man's doubt and turn it into faith.
Jesus specifically asked Thomas to touch Him and Thomas did. You may ask, "How do you know?" It doesn't say Thomas touched Him but I know he did because Thomas was changed.
After having his doubts dispelled by touching his fingers to the wounds of Christ, Thomas addressed Him as, "My Lord and my God." Until then, the apostles had addressed Jesus as "Lord," but Thomas, changed by a touch, was the first to proclaim without hesitation that Jesus was, indeed, God. History records that Thomas went on to preach the gospel as far away as India. Today, there are many Christians in India because Thomas reached his hand forward and was touched by the finger of God.
Once you touch the Lord, you will never be the same!