Renouncing Satan 2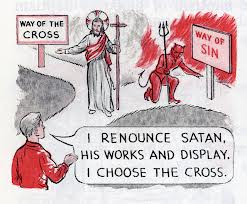 "Renouncing Satan"
 Renouncing Satan and His Evil Demons
Renouncing SATAN'S EVIL DEMONS from our lives is very important and we should do this everyday. I have put together something which you can print out and put on your wall or refrigerator, or even give it away… this is something that in which you can even place on your website if you will; this will help other's get satan and his evil demons out of your life and your family's.
Just because there are some things in this does not mean you are guilty of them… it's letting the devil know that whatever has been following you all your life no matter the generation he has to let go of you and your generation and the next and the next.
I just seen a website, where someone was "telling people NOT to Renounce Satan" so stupid… that is what is wrong with this world, people are not renouncing the devil and his evil demons, if more people would renounce him and his evil pests, this world would be so much better.
3 Things NOT To Rebuke
There are some things in which we are not to rebuke and there are many we can, so be careful when you rebuke the demons of the devil.
When Bad Things Happen, How Should We Respond?
Some Christians assume Satan is behind every kind of problem. This is a dangerous view, as it comes close to blaspheming the work of the Holy Spirit when God rebukes us.
Other groups focus on enduring trials. Yet other groups focus on God's discipline to the point of not recognizing mere tribulation or the active work of Satan. So the next time some "trouble" comes in life, is there a way of discerning the meaning? What instruction has God given us?
As an Acts 17:11 test, find the Scriptural basis for each of the DISCIPLINE table entries below from this Bible study. This table will be included in the next two studies as well for the same purpose.
Especially note the difference in how (and how not) to respond. As you can see, since different responses are appropriate, discernment is key.
| | | | |
| --- | --- | --- | --- |
|   | DISCIPLINE | TEST/TRIAL | TEMPTATION |
| FROM | The Lord | God, World, Satan | The Devil |
| RESULT OF | Disobedience | Following God | Pride or Exposure |
| HOW TO DISCERN | Fits Crime | Proves Faith | Leads Astray |
| RIGHT RESPONSE | Repent | Persevere |  Resist |
| DO NOT | Make Light of | Shrink Back | Fall into |
| GOD IS SAYING | We are Sons | His Name is in Us | The Flesh is Weak |
| ENDS WITH | Fear and Holiness | Death and Glory |  Sin or Victory |

We should avoid and resist temptation, persevere tests, trials and suffering, and never resist what God is doing, or attribute it to Satan.
Rom 8:28 (NIV) And we know that in all things God works for the good of those who love him, who have been called according to his purpose.
You MUST ALWAYS SAY THIS OUT LOUD AND FIRMLY… never just say it in a simple low voice, it has to be said "FIRMLY OUT LOUD"
Are You READY to tell the devil where to get off at??? Ok, Let's do this!
Before we do this let me say this, (Just because you may not be guilty of anything which is in these statements, SAY THEM ANYWAY…PERIOD NO JOKE, NO EXCUSES DO IT!)
I RENOUNCE ALL thoughts of things I should not think about, I RENOUNCE anything which crosses my mind which should not be. In The Name Of JESUS I RENOUNCE any type of uncleanilness, impurities and sins which should not be in my life or heart. In The Name Of JESUS.
I RENOUNCE ALL EVIL IN OUR GOVERNMENT AND ALL AROUND THE WORLD all evil, all wars, all evil which has taken over our country and the world. I RENOUNCE IT RIGHT NOW IN THE NAME OF OUR LORD JESUS CHRIST.
I RENOUNCE all or any witchcraft , sorcery, divination of any type of occult which has been in the past of my ancestors, or beyond them, In The Name Of JESUS I RENOUNCE ALL thoughts in past and present which may come into mind that should not come
to me.
In The Name Of JESUS I RENOUNCE any and ALL lustful, perversion and ALL immorality, which was in past generations In The Name Of JESUS.
I RENOUNCE ANY and ALL ungodly, soul ties, immoral relationships in the Name of Jesus
I RENOUNCE any and ALL ways of hatred, anger, resentments, revengeful ways I may have in my heart any retaliation, unforgiveness , prideful ways, vanity, ego haughtiness and ALL disobedience and all or any type of rebellion In The Name Of Jesus.
I RENOUNCE ALL FEARS, selfishness, self will, self pity self rejection, self-hatred, self promotion, any unbelief and all doubt I may have I am not aware of In The Name of Jesus.
I RENOUNCE any and ALL ungodly oaths, covenants and any VOWS that my ancestors of generations may have made or myself which is not of God In The Name of Jesus.
I RENOUNCE any and ALL Idols made or praised from my ancestors or any generation which has worshiped any of this type, In The Name of Jesus.
I RENOUNCE ALL HOLDS satan has on my life whether with family members, finances, husbands, children, my business, my friends lives. In The Name of Jesus.
I RENOUNCE any and ALL demons which has a hold of my health, my family's, my friends in the Name of Jesus.
Confirm YOUR RENOUNCE of SATAN and His Evil Garbage below "OUT LOUD FIRMLY AS ABOVE"
I COMMAND YOU SATAN TO GET BACK JACK I AM THE LORD GOD'S AND YOU HAVE NO RIGHTS TO ME IN JESUS NAME I COMMAND YOU TO FLEE FROM MY WHOLE ENTIRE BEING AND LIFE AND THE LIVES OF THOSE WHOM I LOVE AND I RENOUNCE YOUR EVIL UPON THIS NATION WHICH IS UNDER GOD THE MOST HIGH IN JESUS NAME AMEN
Rebuking Satan's Demon's
Job 38:31-32 I BIND AND REBUKE ANY UNGODLY FORCES OPERATING AGAINST ME THROUGH ARCTURUS PLEIADES, MAZZAROTH, ORION ( Psalms 19 Romans 8:21-24 Revelation 22:3)
2 Kings 23:5 I BIND AND REBUKE ALL MOON DUTIES AND DEMONS OPERATING THROUGH THE MOON IN THE NAME OF JESUS.
I BIND and REBUKE ALL DEITIES AND DEMONS OPERATING THROUGH THE SUN IN THE NAME OF JESUS. I BIND AND REBUKE ALL DEITIES AND DEMONS OPERATING THROUGH THE STARS AND PLANTS IN THE NAME OF JESUS.
 Page 1  Page 2  Page 3  Page 4  Page 5  Page 6  Page 7  Page 8  Page 9  Page 10  Page 11