Real Testimonies -2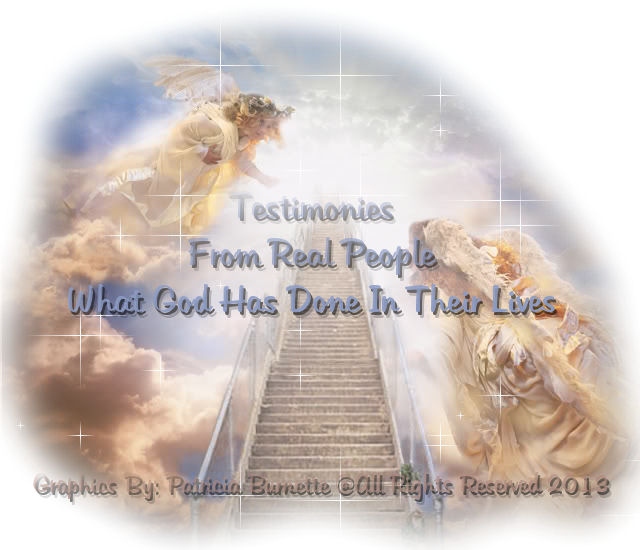 These are real "Testimonies" from Real People who have experienced "God's Mercy and Grace" in their lives. These here are from my life in the 1990's and in 1984.
I have asked their permission to post their "real life testimonies" in hopes that they may help other's who may be going through the same things in their lives.
If, you have a Testimony which you would like to share please let me know. You can connect with me on FB/ Heavens-Beauty & Wisdom of Jesus! Thank You and May God Richly Bless You!  (PS I am still re-editing code ( I am now learning Word Press so some may look distorted a little but they are getting fixed 🙂 )
JESUS SAVED ME FROM 2 18-WHEELERS…….
Patricia From: Montgomery Al
About 17 years ago; I was going to go get; my husband from "B-I-N-G-O" and I was on I-65 in Montgomery, Al and I was driving in the "right lane" going about 55 – 60…on the Northern Bypass and it was very busy, that night, cars coming from everywhere; it seemed.
I was listening to the radio; No…it was not loud…then all the sudden; I kept seeing "flashing- head lights" just keep flashing….and I looked in my "rear-view mirror" and all "I could see was these 2 "18-wheeler's" having a race at about 90 miles an hour they had no markings, no DOT numbers no nothing, just white cabs.
I looked to see if; I could get-over in the "left lane" and no-go; I couldn't get-over any other way…they would not let me, over, neither side, so, yes, I was scared-out-of-my -wits; because there was one, right behind me, on my bumper and was only; about an 1/2″ away from my back-end,he was so, close…I couldn't even see his headlights; at all, just barely….then, on my left lane; there was another-one, same color…truck, he knew I was in danger, and he didn't move at all; and he wasn't going to….they; just kept "flashing their lights, and blowing their horns."
So, I kept picking-up speed, I finally was able to hurry and get over in left lane, only after one of the 18- wheelers flew further up and when I looked-down at the "speedometer; I was going 80 miles an hour; and all the sudden, I was in the "embankment" on the interstate.
Then, I remember; one of the "driver's" peering at me, through his "truck window" going by-real slow…..and then just leaving.
Not, one person, not one car, stopped to see; if, I was alright….nobody!
But, I didn't need anyone; because "MY HEAVENLY FATHER SENT HIS ANGELS……TO TAKE CARE OF ME; AND HOLD ON TO ME…..WHERE I DIDN'T FLIP, NOR GET KILLED!"
"PRAISE THE LORD!"
This, goes to show you, just what "MY HEAVENLY FATHER CAN DO!"
"ANGELS WERE ALL AROUND ME & MY CAR….SLOWING IT DOWN; GOING 80 MILES AN HOUR…..I LOVE MY JESUS; AND I WANT TO LOVE HIM MORE; AND HE IS MY HERO; MY SALVATION, MY WONDERFUL KEEPER, MY KNIGHT 'N' SHINNING ARMOR!"
Patricia From: Montgomery Al
Page 1 Page 2 Page 3 Page 4  Page 5 Page 6 Page 7 Page 8 Page 9